It's almost time for the Lakes International Comic Art Festival 2021 – once again a physical event, in Kendal – and the LICAF podcast team have a brilliant preview of the upcoming comics gathering of comic creators and fans, taking place Friday 15th – Sunday 17th October. Not long to go, now!
Nicole Bates, Pete Taylor, Mike Williams and Ian Loxam explore this year's lively event programme, enthuse about Dave McKean's haunting Festival art, and discuss what they are excited about – and suggest some of the events that must not be missed!
Top picks include the Comics Up Close event on Friday – a more academic-oriented session taking a closer look at the comics form, which you can take part in, if you have a weekend pass; the "Balloon Debate" on Friday night, with various cartoon characters trying their best to be the sole survivor of impending disaster in a silly opening event; and there's delighted enthusiasm for the Little LICAF events for children, largely taking place in the Shakespeare Centre.
The team are also looking forward to the Live Draws this year, and other things too… but listen to the Podcast and find out just what they are!
"I just love the Live Draws," enthuses Ian Loxam. "They are what make the Festival, because you just can't see it anywhere else."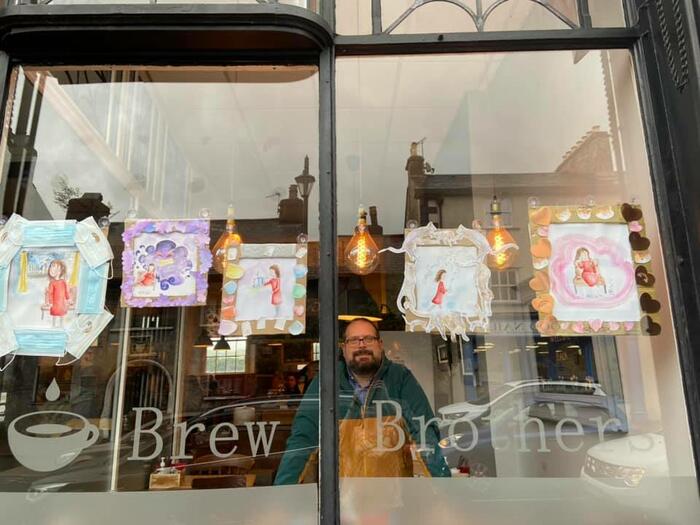 If you're in Kendal before the Festival, you'll be pleased to hear the Windows Trail is back – and podcast co-host and ace artist Nicole Bates has taken over coffee shop Brew Brothers with a sideways take on this year's Trail theme, "Heroes and Heroines", with some lovely watercolour artworks honouring pets, and how they helped so many people through the darkest times of the COVID-19 lockdowns. 
"It's a look at how your pet is your comfort blanket, really, she explains, "and helps us face the world."
Also featured is news of the newly-launched Dice & Bolter Tabletop Gaming Club, set up by Mike and Ian. A gaming club run by gamers for gamers, they operate once a week from the beautiful South Lakes village of Levans, near Kendal. Further information for that can be found at diceandbolter.Wordpress.com.
• Check out the Lakes International Comic Art Festival Podcast Episode 98 here
Download on Spreaker | iTunes | Stitcher | Spotify | iHeart Radio
• The Lakes International Comic Art Festival – back 15th to 17th October 2021 – is online at: www.comicartfestival.com
• Lakes International Comic Art Festival Podcast: www.comicartpodcast.uk | Twitter: @comicartfestpod | Facebook: @ComicArtPodcast | Instagram: @ComicArtPodcast
• Want to receive news about the Lakes International Comic Art Festival? Then sign up for their newsletter now 
• Check out their LITTLE LICAF Facebook Page here and the dedicated LITTLE LICAF Instagram here
Regular contributors to the Lakes International Comic Art Festival Podcast include Pete Taylor and Mike Williams