The Lakes International Comic Art Festival is delighted to reveal its stunning artwork by Dave McKean to promote this year's weekend-long event, planned to take place in Kendal (15th – 17th October 2021).
The reveal comes ahead of the event's first guest announcements, happening soon, which will include both British and international guests.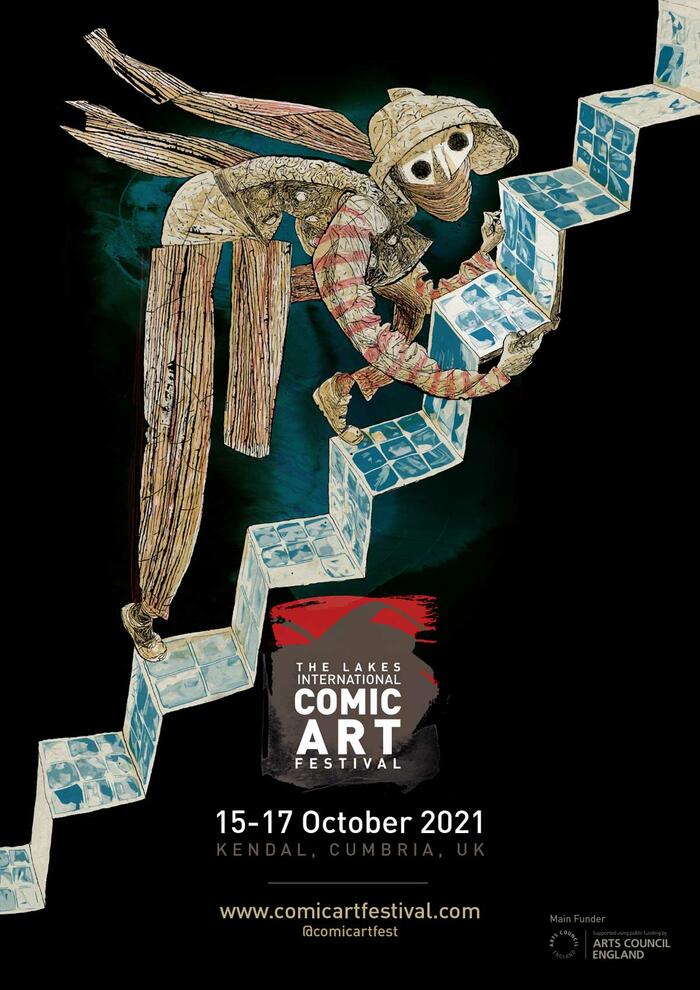 "The book as an unfolding path is an image I've played with a few times," says Dave of his haunting and eye catching artwork. "but the poster for this Festival seemed to be the perfect place for it. It feels like the unfolding of individual panels, the progress of the narrative, and the huge creative advance recently of the comics medium as a whole.
"The character is a version of my creation Raptor, a traveller, a hunter, and someone trapped between two worlds; our reality and the imaginative world of literature and art."
Planning for a return to a physical event in 2021, with a final decision in May, the team is preparing a hybrid event of both the "real" and "virtual" – the latter in response to the huge success of last year's online LICAF LIVE, archived on the Festival's official site and YouTube. In the works are panel events, exhibitions, an anime film program, children's activities through LITTLE LICAF, and, of course, the return of the ever popular Comics Clock Tower, again to be mirrored online.
Dave McKean, who featured in a special "Through the Keyhole" segment of LICAF LIVE in 2020, has illustrated and designed many award winning and ground breaking books and graphic novels, including The Magic of Reality (by Richard Dawkins), The Homecoming (Ray Bradbury), Varjak Paw and Phoenix (SF Said), Arkham Asylum (Grant Morrison), and Mr. Punch, Signal to Noise, The Wolves in the Walls, Coraline and the Newberry and Carnegie Medal winning The Graveyard Book (Neil Gaiman).
His self-penned Cages, published in 2010, received several awards for the year's best graphic novel and he wrote and drew the Lakes International Comic Art Festival graphic novel created in partnership with 14-18 NOW, the Arts Council and US publisher Dark Horse, Black Dog: The Dreams of Paul Nash. Dave was also a contributor to the Festival's other World War One-inspired anthology collection, Traces of the Great War, published in partnership with Image Comics.
He has also created hundreds of CD, book and comic covers for Michael Nyman, Alice Cooper, The Rolling Stones, Bill Bruford, Bill Laswell, Tori Amos, Altan, Fear Factory, Roy Harper, Frontline Assembly, John Cale, and the entire run of Neil Gaiman's influential Sandman series. His work has also been exhibited in the US, Europe and Japan and he has released four monographs of photographs.
Dave has designed characters for two of the Harry Potter films and has also directed five short films and three feature films, the award-winning MirrorMask, Luna and The Gospel of Us, with Michael Sheen.
• Dave McKean is online at www.davemckean.com | Twitter: @DaveMcKean | Instagram: @davemckeanhourglass
• Higher resolution versions of this art is available here for print (Dropbox Link)
• The Lakes International Comic Art Festival – back 15th to 17th October 2021 – is online at: www.comicartfestival.com
• Most #LICAFLIVE 2020 content is also available on the LICAF YouTube Channel here, including the Comics Master Classes – but check the official LICAF site for exhibitions and some other items, such as the Desert Island Comics interview with comic creator Kelly Sue DeConnick
• Lakes International Comic Art Festival Podcast: www.comicartpodcast.uk | Twitter: @comicartfestpod| Facebook: @ComicArtPodcast | Instagram: @ComicArtPodcast
• Want to receive news about the Lakes International Comic Art Festival? Then sign up for their newsletter now
• Check out their LITTLE LICAF Facebook Page here and the dedicated LITTLE LICAF Instagram here
• The Virtual Comics Clock Tower is online at licafclocktower.com