We're delighted to announce we'll have a special guest joining comics and games writer Jörg Tittel on stage with 2000AD artist Mick McMahon on Sunday for "Our Love of Gaming" panel at the Old Laundry Theatre next weekend: Ryan Bousfield, creative director of Wolf & Wood, developers behind the hugely-anticipated, already award-winning, The Last Worker game.
The Last Worker is a VR experience directed by Jörg Tittel, an Oiffy production, developed by Wolf & Wood and published by Wired Productions, featuring art by Mick McMahon.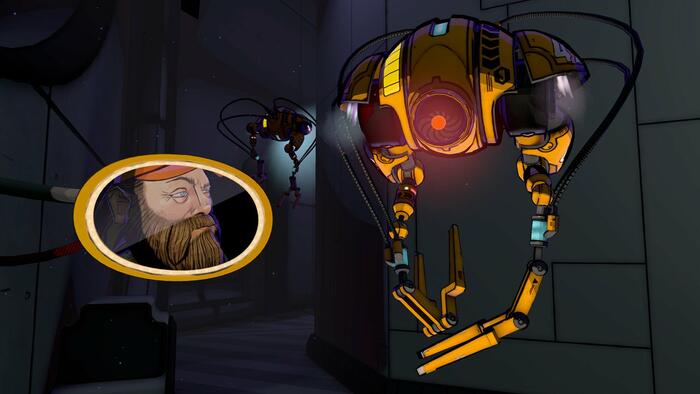 Set in an automated, dehumanising world strongly reminiscent of a well-known digital retailer we've all used at least once, The Last Worker turns you into Kurt, the last human worker in JFC-1, a fulfilment centre the size of the sunken city of Manhattan. 
Along with his broken co-bot, Skew – a frankly adorable example of offering a tutorial, in a game, that is an intrinsic part of the narrative and goes hand in hand with character development – you, as Kurt, will discover more about his past, his routine… and the surprises the future holds for him.
"Ryan and team are the only people to have managed to translate Mick's unique style into 3D," says Jorg, "which Mick will talk about in our panel, since many have failed before."
Wolf & Wood, founded by Ryan, is a Gateshead-based indie studio that likes to tell dark stories, be it mystery, horror or comedy.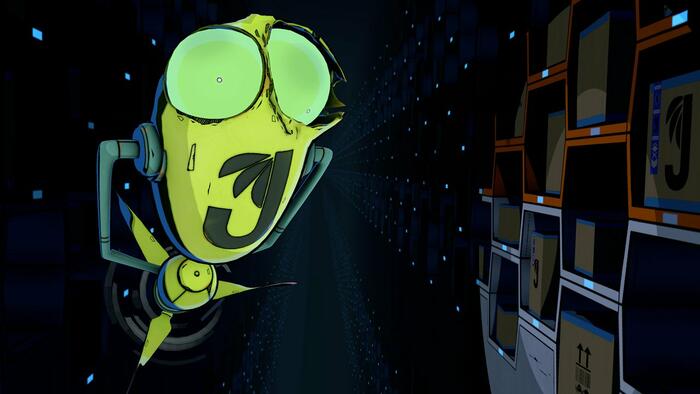 They've led the way in Virtual Reality narrative since 2014, with projects such as Hotel R'n'R(2020), a satirical look at everything wrong with the world played out through Rock'n'Roll mayhem; The Exorcist: Legion VR, and Star Trek Timelines VR (2016), and have defined patterns and systems in the field that have reached much further than their small studio in the North East of England.
"In 2014, VR was mostly rollercoasters, so I picked up a headset to try and create something more with it," Ryan told XRMust last year. "That's how A Chair in a Room was born, which immediately sparked a lot of interest.
"I felt there were some good possibilities there, so I quit my job and started doing VR full time.
"The Last Worker is my fourth game – and the team has expanded from just me in the first 18 months to the nine people who have been working on The Last Worker over the past year. It's been amazing!"
• Follow Ryan on Twitter | Instagram
• Wolf & Wood: wolfandwood.co
• Buy a Lakes International Comic Art Festival Pass now
JÖRG TITTEL, MICK MCMAHON AND RYAN BOUSFIELD: OUR LOVE OF GAMING
Sunday, 16th October, 2022 – 1.30 – 2.30pm, The Old Laundry Theatre, Bowness-on-Windermere 
Mick McMahon in conversation with Jörg Tittel and Ryan Bousfield about gaming and their exciting new collaboration!
In the world of comics, Mick McMahon ('Judge Dredd', 'Slaine', 'The Last American') certainly needs no introduction, but few people know about Mick's love for videogames and the fact that he's worked on several in the past, for good and for bad.
In conversation with writer and director Jörg Tittel(Ricky Rouse Has a Gun, The White King) and developer Wolf & Wood's Ryan Bousfield (The Exorcist: Legion VR), Mick will talk about his life and work with games – and give the Lakes crowd a look at The Last Worker, their award-winning collaboration coming to VR, consoles and PC this autumn.
• The Last Worker is coming to Oculus Quest 2, PC VR, XBox Series X/S, Nintendo Switch and PlayStation 5 in 2022 | Visit the official website
You can wishlist the game on Steam and enjoy the teaser trailer here. Updates will be shared on The Last Worker's social channels too: follow the game on Instagram and Twitter (@TheLastWorker) and keep in touch with director Jörg Tittel and the developing team at Wolf & Wood Studio.