We're delighted to announce that DC Thomson Media's BEANO comic is lending its support to the Festival in October for its virtual comics weekend.
Based in Dundee, the editorial team behind the best-selling news stand comic will be providing a special video promoting the comic's work with schools, and have already shared plenty of goodies - books, notebooks and more - for youngsters completing their Arts Award in conjunction with LICAF.  
Many of the Festival's projects for schools are open to Arts Award participants in Cumbria, part of the national project to support young people who want to deepen their engagement with the arts, build creative and leadership skills and achieve a national qualification. 
BEANO continues to support pupils by promoting comics as a mechanism for artistic and educational engagement in their local area as well as in The Lakes area, in conjunction with the Festival.
Separately to the BEANO partnership, LITTLE LICAF is also running a Biographic Comic Competition for children, inspired by Steve McGarry's Biographic Comics. Those who share their biographical comics are in with a chance to win prizes for their school and even be part of an online exhibition as part of this year's LICAF LIVE Festival!
Designed especially for kids (12 and under) and families – LITTLE LICAF, part of the LICAF LIVE weekend (9th - 11th October 2020), will feature a wonderland of workshops, downloadable resources, readings and more.
A full schedule of virtual events will feature on the Festival web site in the run up to the weekend, which has replaced the annual Festival in Kendal this year.
Festival team members Hester Harrington and Sim Leech have been working hard over the summer to create an exciting line-up of events for young comic fans, alongside Festival Director Julie Tait, and have been developing projects in partnership with Cumbrian schools to promote the comics form in schools, part of ongoing outreach work supported by Arts Council England that will continue through 2021.
The work builds on the Festival's long-standing commitment to encouraging young comic readers through its Family Zone workshops and publications such as the English language edition of Carrot to the Stars by Regis Lejonc, Thierry Murat and Riff Reb's, released in 2017, still available from Festival partner Page 45.
"As a BEANO reader back in the 1980s and '90s, I was too busy being enraptured by the hijinks of Dennis and Minnie and the Bash Street kids to wonder at the hard work that went into creating them in the first place," says BEANO editor John Anderson. "Maybe it was magic? Now that the tables are turned and I share a responsibility for all that hijinkin', it'll be a pleasure to hold back the curtain and show today's readers how that magic comes to life."
"I have a childhood memory of being told to 'read proper books' when I took copies of 2000AD to primary school," says Sim Leech. "That may have been a while ago, but encouraging schools to use comics and graphic novels as an educational resource is still very important to me, and is a motivation behind our outreach work. 
"Not only can comics and graphic novels encourage local children, and hopefully those from further afield, to visit, or take part in, our amazing festival, but they can foster a lifelong love of the medium, and inspire young people to channel their creativity into drawing, or writing. 
"Hopefully, our outreach work will also encourage teachers, educators, parents and carers to see the potential of the medium to entertain, influence and inspire. Within a busy curriculum, comics and graphic novels can become an engaging resource which can combine a variety of subjects. 
"Comics in schools aren't just for wet play times - though there's no harm in that!"
• Find out more about the LITTLE LICAF Biography Comic Competition here on the Festival web site
• For the latest news about Lakes International Comic Art Festival Live 2020 visit www.comicartfestival.com | Facebook | Twitter | YouTube | Podcast | Tapas
• The Virtual Comics Clock Tower is online at licafclocktower.com
• Check out the LICAF Colouring Sheets - here on the Festival web site | Have fun with the LICAF online Animated Colouring Book | Check out the colouring entries on Instagram so far at #licafcolouringcomp2020
• Find out more about the Arts Award scheme managed in England by Trinity College London in association with Arts Council England and 10 regional Bridge organisations drive participation.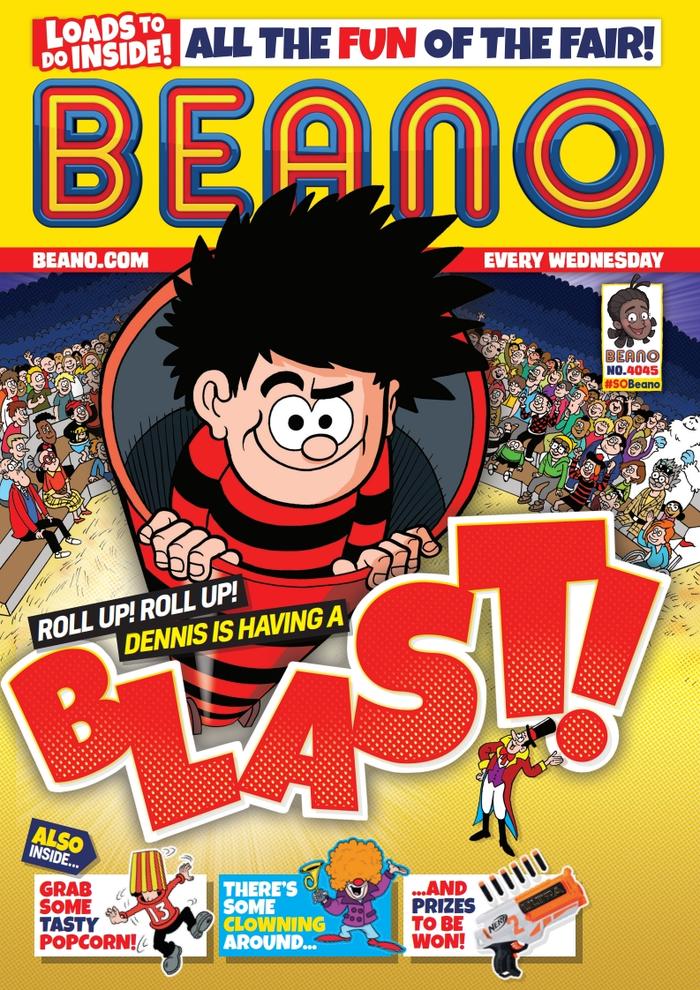 BEANO has entertained children of all ages since 30th July 1938. More than 80 years later, its unforgettable characters remain as popular as ever. Dennis still menaces, Minnie still minxes and Roger still dodges. That's why everyone we know, still loves BEANO.
A humour-based weekly strip comic aimed primarily at kids aged 7-11 (with an even split between boys and girls), BEANO readers are cheeky, mischievous, energetic and fun-loving; a lot like Dennis himself.
BEANO guarantees funny reading for anyone looking to enjoy a great laugh, achieved through a combination of famous comic strips and fun features that appeal to all kids. Everyone enjoys a laugh and a joke – and BEANO comic delivers every week of the year.
The BEANO Annual continues to be a favourite, securing #1 spot as bestselling annual in the UK 10 out of the last 11 years and Emmy-nominated animation series, Dennis and Gnasher Unleashed became CBBC's highest-rated animation upon its launch in 2017.
Inspired by BEANO comic, Beano Studios is a multimedia company creating, curating and delivering mischievous entertainment for kids of all ages worldwide. Producing diverse entertainment across multiple destinations including TV, digital, theatrical projects, consumer and the much-loved comic and annual.
At the heart of Beano Studios is the digital entertainment feed, Beano.com, packed with funny, rebellious and imaginative content. Made available for free across web, as well as on YouTube and PopJam, the platform is a one-stop destination where kids can let their imagination run riot!