The Lakes International Comic Art Festival is pleased to announce the first guests for its weekend-long Festival, taking place this year in Bowness-on-Windermere (Friday 14th – Sunday 16th October 2022) - and reveal this year's Festival promotional art, by Sean Phillips.
The first guests to be announced are Jaime Hernandez (Love and Rockets), Michael Lark (Lazarus), Bill Morrison (The Beatles - Yellow Submarine, MAD), Bex Ollerton (author of Lavender Clouds, organiser of and author of SENSORY: Life on the Spectrum), Mike Perkins (Swamp Thing, X-Men), Guardian cartoonist Posy Simmonds, Greg Rucka (Lazarus, Black Magick), Katie Skelly (Maids) writer Ram V (Blue in Green, Swamp Thing) and Egyptian duo, Twins Cartoon, the pen name of the Egyptian twin brothers duo Haitham and Mohamed Raafat El-seht, who work together as comic book artists and cultural managers.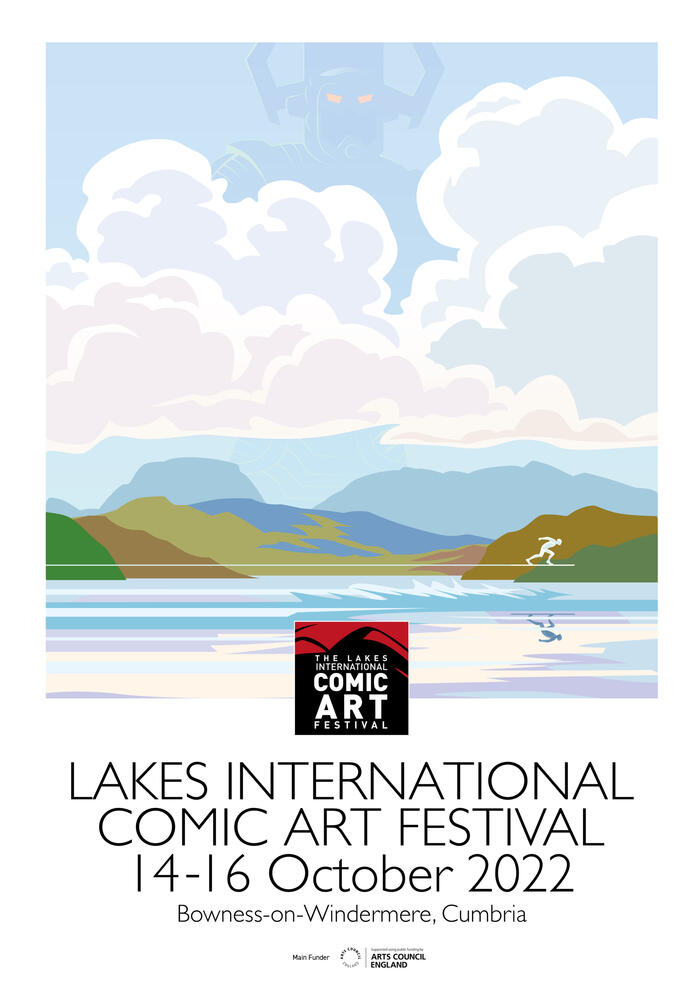 "I was bitterly disappointed to be unable to attend the Lakes Festival last year, and I swore up and down then that I'd make it this year," says writer Greg Rucka. "And I will! Pandemics be damned! Impending collapse of civilisation, nuts to that! I'm gonna be there, and someone better buy me whisky! Okay, that last part not so much, but the rest? Absolutely — both Michael Lark and I are eagerly looking forward to it!"
"This will be the first time I'm attending the Lakes Festival and from what I've heard, and been told, I'm expecting a wonderful, friendly experience," says artist Mike Perkins. "I've only just recently returned to this side of the pond after 20 years in the States, so it'll be a new experience for some of the British fans to get their Captain Americas, Lois Lanes, The Stands and The Swamp Things - as well as numerous others - signed by myself. I'm eagerly looking forward to it."
"We're thrilled with our line-up of guests," enthuses Festival Director Julie Tait, "and some of the events and happenings around the weekend we're planning are very exciting, too. They reflect the opportunities moving to Bowness offers, as we 'regenerate' our programme.
"The move seems to have caught the attention of comic creators across Britain, too, she adds. "There has been huge interest from artists and publishers who want to be involved in our new look 'Lakeview Comics Marketplace' - and there's still time to apply." 
Watch out for further announcements about guests, events, exhibitions, family-friendly programming and more from the Lakes International Comic Art Festival very soon!
• Full details of all announced guests so far feature here on our web site
• The Lakes International Comic Art Festival will run from Friday 14th to Sunday 16th October 2022 – and is online at: www.comicartfestival.com | Lakes International Comic Art Festival Podcast: www.comicartpodcast.uk | Twitter: @comicartfestpod | Facebook: @ComicArtPodcast | Instagram: @ComicArtPodcast | Virtual Comics Clock Tower: licafclocktower.com
• Want to receive news about the Lakes International Comic Art Festival? Then sign up for their newsletter now
• Check out their LITTLE LICAF Facebook Page here and the dedicated LITTLE LICAF Instagram here
SIGN UP FOR THE LAKEVIEW COMICS MARKETPLACE!
Applications for comic creators, publishers and others are still open for exhibitors to feature in their Lakeview Comics Marketplace at the 10th Lakes International Comic Art Festival. If you would like to exhibit at this year's Festival, please complete the application form available on the official LICAF web site and return it to carole@comicartfestival.com to arrive no later than 5.00pm on Friday 25th February 2022
While LICAF won't be able to accommodate all applicants, the team will keep you well informed throughout the process and let you know if you have been successful no later than Friday 4th March 2022