LITTLE LICAF – part of the Lakes International Comic Art Festival project, offering comic-related content specifically for those aged 12 – has just launched a new comic challenge for youngsters – this one with an environmental theme, working in partnership with #RewritingExtinction.
For the academic year 2021/22, Little LICAF have created a brand new resource to inspire youngsters, families with children and educators, as part of their passion for getting comics into the classroom, and designed a 4-panel comic challenge, inspired by the theme, ENVIRONMENT.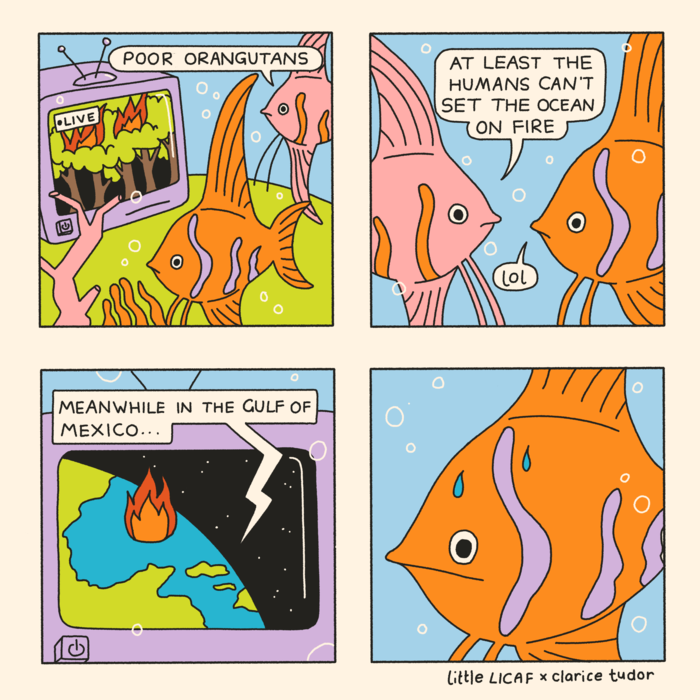 Instagram comic superstar Clarice Tudor, one of the contributors to the Comics Change Change The World – 10 Years To Save The World project, has joined in with the fun, and created an all-new strip in the format, to get creative minds a-buzzing!
There's absolutely no deadline for this Challenge. Pupils are being encouraged to fit their cartooning in alongside their learning this year in any subject, be it Art, English, Biology, Geography or Mathematics..
"Each school term, we'll look forward to sharing youngsters' comic concepts online," says project co-ordinator Hester Harrington. "The topic of ENVIRONMENT can be interpreted in whatever way you would like. Think about what you have recently been studying in school to help you with ideas."
"We would love to see your designs, it is always our pleasure to celebrate young artists' creations…take a creative leap to become a comic artist for the next generation!"
Little LICAF has partnered with #RewritingExtinction on this 4-Panel Comic Challenge, a major, hopefully world-changing storytelling campaign and fundraiser to finally stop species going extinct, forever, launched earlier this year. It's project that not only promotes great environmental causes, but is being enhanced by comics, too, with online comics available to read now, created by celebrities, environmentalists and comic creators from across the planet. A print collection, The Most Important Comic Book on Earth out later this month, is now available to pre-order, a global collaboration for planetary change, featuring the work of 300 creators from all over the world.
Clarice Tudor, a guest at this year's Lakes International Comic Art Festival, is a comic artist and cartoonist. After graduating from the University of Leeds, she turned her personal artistic practice into a thriving small business.
She states that her goal is similar to that of many cartoonists – to take a thought, concept, feeling or issue and break it down into an appealing, simple, easy-to- digest piece of art that inspires or soothes the soul.
Clarice is also one of the artists representing LICAF for COP26, the 26th United Nations Climate Change Conference, taking place in Glasgow in November, in a unique project called Comics Change Change The World – 10 Years To Save The World. It's a collection of ten comics, representing each of the ten years left to save the world, and focussing on the different issues and different climate actions needed in the decade ahead.
• There's absolutely no deadline for this 4-Panel Comic Challenge. Please share your comics with Little LICAF at artwork@comicartfestival.com | For more information, and instructions, visit the LICAF web site and grab a copy of the "Information and Instructions for Educators and Pupils" (PDF) and the Little LICAF 4 Panel Comic Template (PDF)
• Little LICAF on the official Lakes International Comic Art Festival web site | Little LICAF on Instagram: @littlelicaf | Little LICAF on Twitter: @littlelicaf | Little LICAF on Facebook: @littlelicaf
• Check out Comics Change Change The World – 10 Years To Save The World
• Discover many more inspirational stories to save the world by delving into the diverse mix of comic storytelling on the official #RewritingExtinction web site | Visit the #RewritingExtinction social media sites on Instagram, Facebook, LinkedIn, TikTok and Twitter