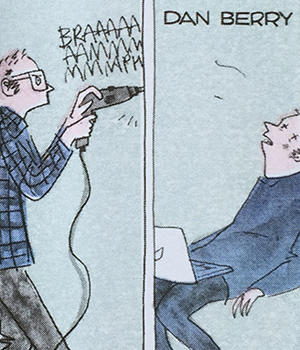 Dan Berry
Dan Berry is an illustrator, designer, cartoonist and lecturer based in the town of Shrewsbury.
He is the Programme Leader for the BA/MDes Illustration, Graphic Novels and Children's Publishing degree courses at the School of Creative Arts, Wrexham Glyndwr University.
A previous guest of the Festival, he co-ordinated the 2014 Comic Marathon that led to the publication of the Eisner Award-nominated collection of stories from that project, 24 by 7, featuring strips by Dan, Kristyna Baczynski, Joe Decie, Warwick Johnson-Cadwell, Sarah McIntyre, Fumio Obata and Jack Teagle.
Since 2012 he has produced the podcast Make It Then Tell Everybody in which he has spoken to over a hundred other artists about what they do and how they do it. He also records a comedy podcast with Hannah Berry (no relation) entitled No YOU Hang Up. He has produced illustration work for The NME, Michael Rosen, The National Union of Teachers and more.
He has produced the following books (in a roughly chronological order): The Three Rooms in Valerie's Head with David Gaffney & Sara Lowes (2016); Sent/Not Sent (2016) 24 by 7 (2015, with Kristyna Baczynski, Joe Decie, Warwick Johnson-Cadwell, Sarah McIntyre, Fumio Obata & Jack Teagle, published by Fanfare Presents in partnership with the Lakes International Comic Festival, nominated for Best Anthology, Eisner Awards 2016); Bear Canyon (2015); Hourly Comics 2015 Nicholas & Edith (2014); The End (2014); Carry Me (2013); Throw Your Keys Away (2013); The Suitcase (2013, by Blank Slate Books); Hey You! (2013); After We Shot The Grizzly (2012, with The Handsome Family); Cat Island (2012); Lasagne (2011); Silky Wilson (2010); Onion Soup (2010); Oxford Clay (2009-10); and a bunch of mini comics and stuff too profoundly embarrassing to share before that.
He also makes, modifies and enthuses about pens and custom typefaces.
DAN BERRY ONLINE
Web: www.thingsbydan.co.uk
Twitter: @thingsbydan
Instagram