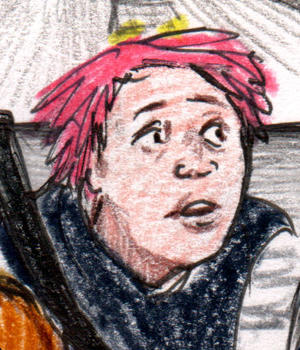 Kate Evans
Kate Evans is a cartoonist, artist, author, mother and activist.
She is the author of Threads from the Refugee Crisis, graphic reportage from the refugee camps of Northern France, the first graphic novel to be nominated for The Orwell Prize.
She has also written Red Rosa: a graphic biography of Rosa Luxemburg, as well as Funny Weather, a graphic guide to climate change, Copse, about environmental protest, The Food of Love, on breastfeeding and Bump, about pregnancy and birth.
Current projects include the children's book Don't Call Me Princess and a forthcoming graphic biography of Antonio Gramsci.
She is unafraid of tackling serious subjects through the light-hearted medium of comics.
"If you can make someone laugh, you're halfway to changing their mind."
Kate Evans ONLINE
Web: www.cartoonkate.co.uk
Twitter: @cartoonkate
Facebook
Kate Evans will be exhibiting in the CCT XTRA space located in the Shakespeare Centre just a few minutes walk from the main Comics Clock Tower at Kendal Town Hall