Responding to the Coronavirus Pandemic with some light relief in the form of something creative, comic creator and regular Lakes International Comic Art Festival guest Marc Jackson has decided to set up a free online service offering cartoon art workshops and activities for families on YouTube, joining many other creators such as Sarah McIntyre and Tom Sparke, who are also providing safe drawing fun for kids online.
Supported by the Festival, you can find the Marc Makes Comics channel here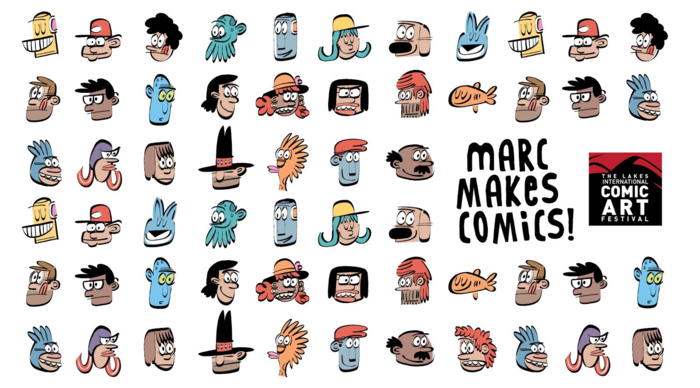 "Going under my moniker of Marc Makes Comics, each week I'll be running live workshops, starting on Wednesday 25th March at 2.00pm, UK time," says Marc, who's also organiser of Macclesfield's annual MACC-POW convention.
"The live videos will save to my channel and so you can re-watch at your own convenience, or watch in any other country wherever you are in the world!
"This is something I've been thinking of doing in the past," Marc explains, "and after being inspired by my cartoonist pal Joe Wos in the United States, who is running daily sessions himself, I thought this was the perfect time.
"Joe knows as do I, the power of cartoon art and the chance to engage with children through workshops is incredible important and worthwhile. I myself run regular sessions in Schools, libraries and at comic festivals, but have suffered due to the current situation and have found myself losing all those regular jobs.
"This is my way of making them still happen and also reaching a larger audience.
"The wonderful Julie Tait, Festival Director at the Lakes International Comic Art Festival, contacted me and offered to support the channel which was amazing and by doing so, will help further my reach no end. LICAF has always been a great supporter of my work and have sent me around the country running workshops in School so this partnership is a continuation of that.
"So, I hope everyone can join me as I live draw, talk comics, read some of my own comics, maybe with special guests and generally help to save our sanity in these crazy times.
"Bring you felt pens and paper and I'll do the rest!"
"Marc's idea is what we're all about," Julie Tait told downthetubes, "so we wanted to support him."
The organisation has significantly expanded its year round comics outreach work over the past two years, beyond its core Festival weekend in October in Kendal, which is still on course. This includes a growing number of international partnerships across Africa, Asia, the Americas and Europe.
• Check out Marc Makes Comics on YouTube
• Early Bird Tickets for the Lakes International Comic Art Festival - 9th - 11th October 2020 are on sale now
• The Lakes International Comic Art Festival is back in Kendal in the Lake District 9th – 11th October 2020: www.comicartfestival.com
• Lakes International Comic Art Festival Podcast: www.comicartpodcast.uk | Twitter: @comicartfestpod| Facebook: @ComicArtPodcast | Instagram: @ComicArtPodcast
• Want to receive news about the Lakes International Comic Art Festival? Then sign up for their newsletter now 
MORE COMIC CREATIVE YOUTUBE CHANNELS
Sarah McIntyre, the writer and illustrator of Grumpycorn, has also launched Drawing with Sarah. Get a taste of her book, learn how to draw Unicorn step by step, and discover how to let your drawing inspire a whole new story! Share your drawings on social media using #DrawingWithSarah! There are more free Grumpycorn activities at www.jabberworks.co.uk/grumpycorn
American cartoonist Joe Wos has his HowtoToon YouTube Channel here
Illustrator and cartoonist Tom Sparke has also launched a YouTube channel to help entertain and educate kids during the isolation periods we're all enduring.
Called Captain Fishbeard, it features drawing games, some of which can be done alone or with family and friends. Tom tells us the channel is suitable for ages five and up and would be perfect independently for seven years plus.