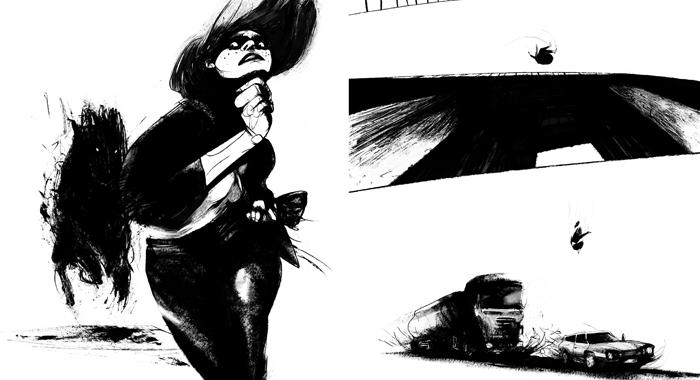 Artwork from 'Barking' by Lucy Sullivan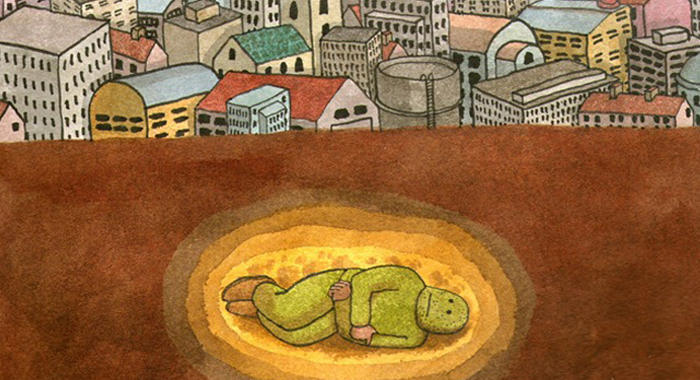 Artwork by Edward Taylor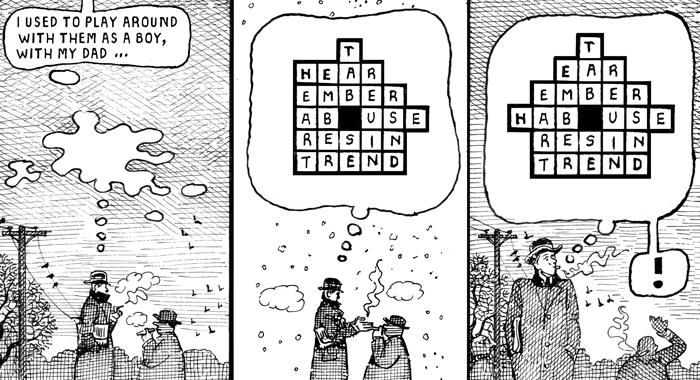 Artwork from 'Fun' by Paolo Bacilieri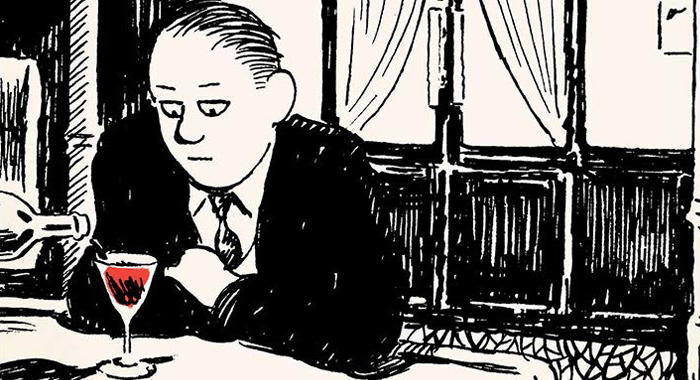 Memoirs of a Book Thief by Alessandro Tota, featuring art by Pierre van Hove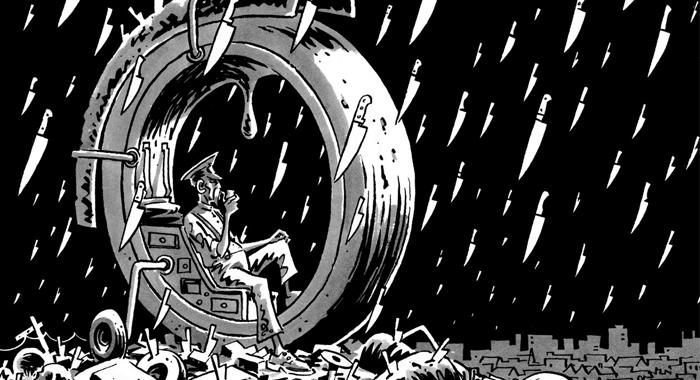 Artwork from 'Book of Forks' by Rob Davis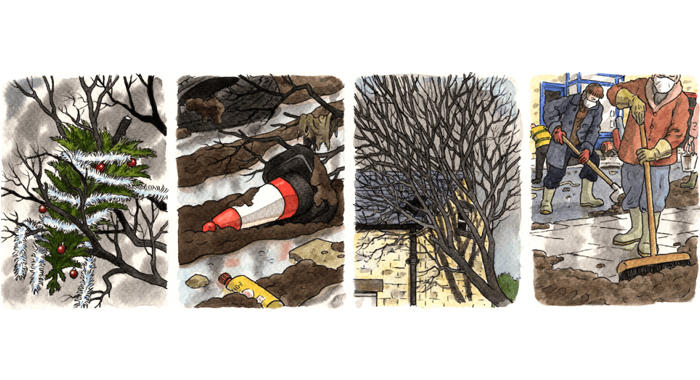 Artwork from 'Rain' by Bryan and Mary Talbot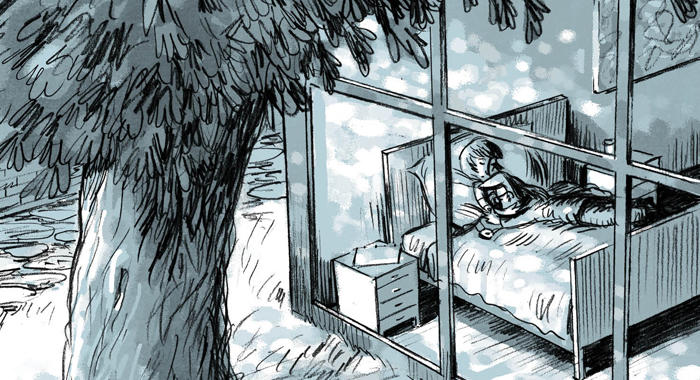 Artwork from Joris Vermassen's 'Mad with Joy'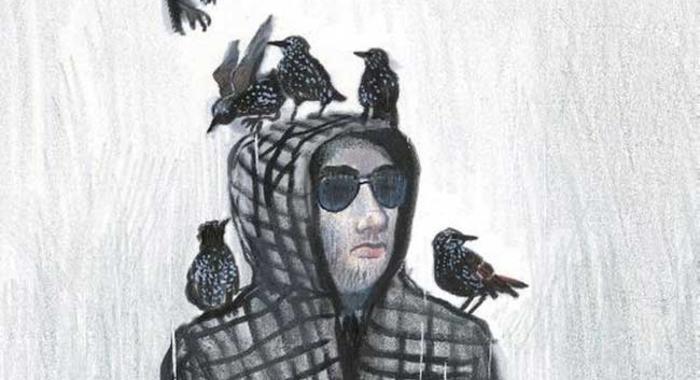 Mikel, by Mark Bellido Judith Vanistendael
This year's Lakes International Comic Art Festival in October, in Kendal, will see the launch of several new graphic novels, including Barking by Lucy Sullivan from Unbound, commissioned by the organisation.
The weekend-long event in Kendal will also see a quick fire celebration of Myriad Editions first Graphic Novel Competition, spotlighting some terrific new works. The Festival line-up includes appearances by Rob Davis, illustrator and comic book designer Emma Price, Lucy Sullivan and Edward Taylor, the latter set to bring a wonderful Godzilla parody to Kendal in a new publication.
Showcasing at the Festival will be SelfMadeHero, a publisher world-renowned for the range and quality of their European titles. Marking the beginning of a new partnership between LICAF and the Italian Cultural Institute, a special event will focus on two recently-published books, Memoirs of a Book Thief and Fun: Spies, Puzzle Solvers and a Century of Crosswords, by two of Italy's most respected creators and Festival guests Alessandro Tota and Paolo Bacilieri. 
Memoirs of a Book Thief, featuring art by Pierre van Hove, also a guest of the Festival, is a psychologically astute comic that perfectly captures the posturing, desperation, and nonsense of the highbrow poetry scene of Paris in the 1950.
Fun is both an impeccably researched history and a playful literary crime story – a breathtakingly inventive graphic novel that explores the strange power of one of the world's most popular pastimes, crossword puzzles.
SelfMadeHero also launch a brand new title by one of their most popular creators, Rob Davis – the eagerly-anticipated Book of Forks, the final part of the trilogy that began with The Motherless Oven.
Another launch from SelfMadeHero is Mikel, by Mark Bellido, with art by Festival guest Judith Vanistendael.
Miquel is a sweet-seller who lives the life of a bon viveur with his wife and two children in the beautiful south of Spain. Money is always a problem, though, and Miquel's dream of becoming a writer also causes problems in the family.
On New Year's Day, he decides to make some big changes to his life. To write a new book, he needs a good story and he's sure he'll find it in the Basque Country, where bodyguards are urgently needed to protect local politicians from the Basque separatist group, ETA.
Being a bodyguard, though, turns out not to be so much a job as a way of life: the uncertainty and the long working days destroy his family life, and fear permeates everything.
With its pure, sometimes garish pigments, Mikel tells a true story, based on the experiences of the author, Mark Bellido. With her brilliant use of colour, Judith Vanistendael depicts the light of a wild and rainy Basque Country. Reconciling the aesthetic demands with the tense style of the narrative, she scratches at the page, smearing it with colours and shapes, with streaks and overlapping images, to compose sublime double pages that become etched on the memory.
Festival patrons Bryan and Mary Talbot's latest graphic novel, Rain, published by Jonathan Cape, also gets its official launch.
Rain is a complete departure from the award-winning creators' previous biographical and historical collaborations, dealing instead with the here and now of environmental degradation that threatens us all. The story follows the everyday experiences of ordinary people, while engaging with pollution, climate change, moorland mismanagement and the disruption, misery and loss that these things bring.
The characters are fictitious; what's happening around them is shockingly real.
As part of its celebration of Belgian comics, this year's Festival sees the launch of Joris Vermassen's work, Mad with Joy, for the first time in English in partnership with the Flemish Literature Fund and published by Fanfare UK.
Tom is a stand-up comedian whose career isn't going too well. As a result, his relationship is in the doldrums. His sister, with whom he has a close bond, is also seriously ill. He tries to spend as much time with her as possible, often taking her to see her favourite statue, 'Mad with Joy' by Rik Wouters – an ode to the joy of life. In spite of her illness, they still have plenty of fun together. But her inevitable end is approaching.
Also being launched at the Festival is an English language edition of Wij twee samen ("Us Two Together") by Belgian artist Ephameron, a moving autobiographical story to be published by from Penn State University Press about her father's struggle with dementia and the impact of the disease on the family.
The Festival is very excited to launch one of its 2019 co-commissions, Barking, with Unbound, by Lucy Sullivan. Alix Otto is having a bad day. A year since the death of her friend, she finds herself hounded, haunted and driven to the brink. Caught by the police, Alix is sectioned and left in the hands of an umbrella system...
Barking is a tale of grief, madness and the ghosts that haunt us, of how, when your world is turned upside down, help isn't always best left to the professionals.
Along with these book launches - plus new works being released by numerous Comics Clock Tower creators - the Festival is also celebrating the launch of Myriad Editions 2020 First Graphic Novel Competition, a challenge supported by LICAF.
"Myriad will pressgang a medley of cartoonists and graphic novelists, judges and supporters, into each presenting a five-minute Quick Strip," Festival Director Julie Tait explains. "Previous entrants will showcase their work-in-progress, and judges will tell us about what they are looking for and the process that leads to publication a full-length graphic novel by the winning entrant.
"The competition is well known for publishing several of its shortlist, too, and we're thrilled to continue our support for Myriad's groundbreaking work."
• The Lakes International Comic Art Festival returns to Kendal at various venues across the town 11th - 13th October 2019
• Tickets for the 2019 Festival are on Sale Now at www.comicartfestival.com/buy-tickets
• Web: www.comicartfestival.com | Facebook | Twitter | YouTube | Podcast