We're saddened to note the passing of one of Brtitish comics great.s Leo Baxendale, who the Festival plans to honour later this year with the unveiling of a permanent artwork in Kendal's Brewery Arts Centre.
Born in Lancashire on 27th October 1930, Leo was an inspirational figure in the world of British comics, rightfully described as "one of the genuine innovators of British comics" by comics archivist and author Steve Holland.
Most of his fans will remember him as the creator of the Beano strips "Little Plum", "Minnie the Minx", "The Bash Street Kids" (first published as "When the Bell Rings") and "The Three Bears".
In the 1960s he worked for Odhams, as the powerhouse behind the Power Comics line, which inclucded WHAM! - creating characters suchas the wickedly funny character Grimly Feendish, foil to Eagle Eye, star of "Eagle-Eye, Junior Spy".
As the Comic Creators Project notes of his work of that time, Baxendale was free to experiment with page layout and full colour in the pages of WHAM!, and he attempted to break the mould of older strips by the use of bizarre humour, outrageous puns, and surreal plots. His joyful creativity that resulted from these experiments are clear to see on the page. He would take such mania even further with his later work.
(Among others, "Eagle-Eye, Junior Spy" was later translated into French in the Disney magazine Journal de Mickey as "Archibald Razmott. Mini-Barbouze de Choc", while his arch enemy Grimly Feendish was known as Sinistroteur. In a feature about Leo, which includes two fascinating interviews, Paul Gravett notes episodes were later compiled into six very limited-edition hardback albums, which have never been reprinted in English).
For cartoonists such as Festival guest Lew Stringer, he was, and will remain, a hero, rightly describing him as a giant in our industry.
"I first saw Leo Baxendale's work on the covers of WHAM! No.77 (4th December 1965) and it appealed to me right away," Lew tells us. "From that moment, he became my favourite humour artist and I became inspired to create my own comics. He was not only a master of making the characters and situations look genuinely funny, but he added little amusing details such as clockwork Daleks in the background that made reading his strips an intricate experience.
"The impact of his work on British humour comics is incredible, as other artists were encouraged by editors to mimic Leo's style. The Beano simply wouldn't look like The Beano without Leo's influence, and it's debatable whether the Beano would even still be around if it had never featured 'The Bash Street Kids' or 'Minnie the Minx'. He was quite simply the most influential artist in UK humour comics."
"Leo was a larger than life character (the stories of his brief reign as king of comics at the Beano are legion, exciting and unrepeatable!)," notes Beano cartoonist and previous Festival guest Nigel Parkinson, "and his self-taught tremendous energy and vitality made all his strips as hilarious as anything ever published. To this very (sad) day, he's the only comic artist to have made me laugh out loud.
"In WHAM! And SMASH! He introduced possibly his greatest and funniest character, the slimily evil Grimly Feendish and the one picture he did that inspired and thrilled me beyond everything was his cover of Bad Penny on SMASH! Number Three. I kept that comic with me every day from February 1966 until today, the only comic I ever salvaged from my mum's eternal spring cleaning drives. In 1994 I was able to tell Leo himself. He said he remembered being very pleased with the way it turned out."
"He's been a hero to me since I was a kid," comments VIZ cartoonist Dave Jones. "I loved his Badtime Bedtime Books and strips like 'Clever Dick' in the mid-1970s without being aware of his name. Then I bought his autobiography A Very Funny Business just before my 11th birthday in January 1979, with a Christmas book token, and read it over and over. I became a bit obsessed, and even took it with me on family holidays.
"Leo later wrote 'Once the imagination of a child is set alight, it takes persistent dousing with cold water to put out the fire.' It's clear from the many tributes that several generations of Baxendale's readers remained undoused, which is a pretty good legacy."
"For British cartoonists he's an influence so early that we weren't even aware we were being influenced," says artist Jonathan Edwards. "All my memories of school look like Baxendale drawings."
Leo's last piece of comic work was writing a page of Festival patron Bryan Talbot's Alice in Sunderland, with him and Bryan as characters.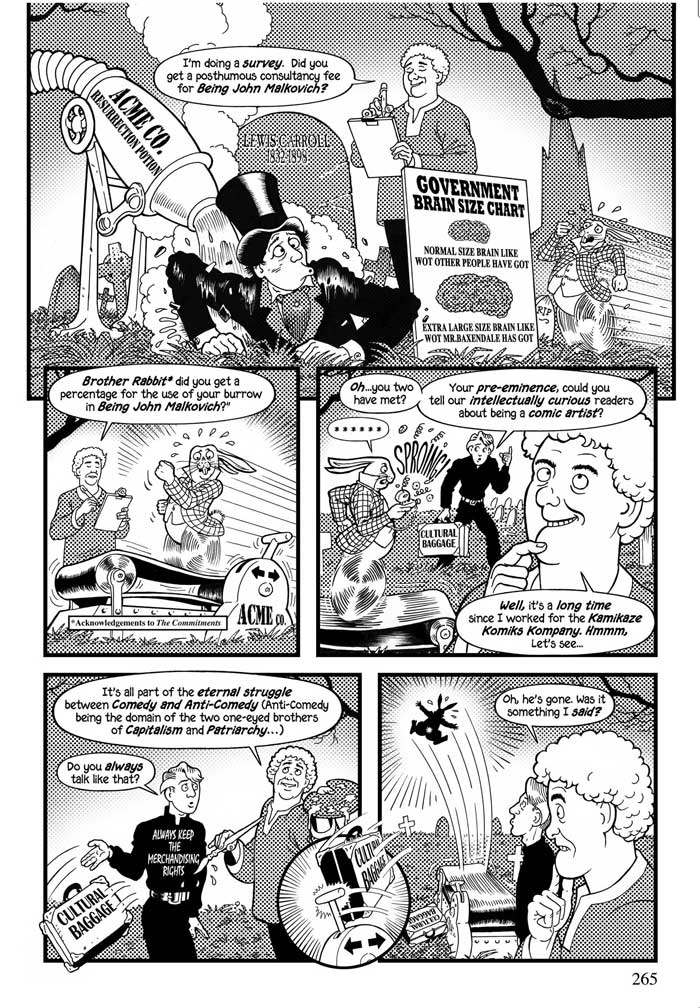 "I drew it in a mixture of our styles," Bryan tells us. "He'd asked what I was working on and, when I told him, asked to see the script. Having read it, he spontaneously wrote the one-pager and sent it to me. I had to work it in there, obviously!"
Later this year, the Lakes International Comic Art Festival will install a specially-made print of one of his artworks, "Baby Basil Does His Bit" in the Brewery Arts Centre, a permanent tribute to an extraordinary creator. The exhibit has been in the planning for several months.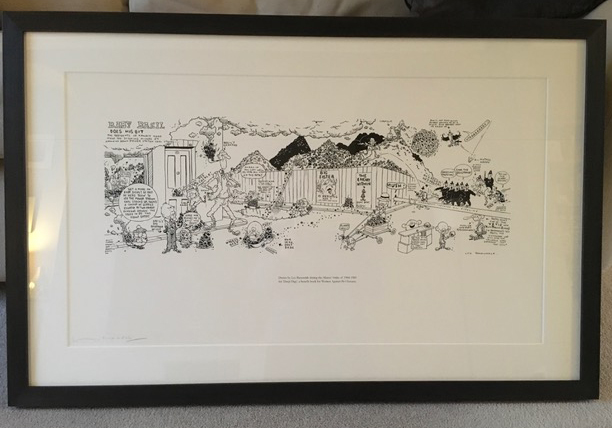 "It's a real honour for us to have this, says Festival Director Julie Tait.
"My entire life has been 'Art & Science Entwine'," he told the Festival organisers on donating the print, "and I am happy for this one inkjet image to stand for my life's work, and to be put to potent use."
Web Links
• Leo Baxendale's official website is here: www.reaper.co.uk
• In Memoriam: Leo Baxendale by Festival team member John Freeman
• Leo Baxendale Remembered, by Beano artist Nigel Parkinson
• A tribute to Leo Baxendale by comic creator Lew Stringer
• Joe Gordon remembers Leo Baxendale on the Forbidden Planet International blog
• Paul Gravett has a feature and two interviews with Leo on his excellent website here
• Read an 2010 interview with Leo Baxendale for Cotswold Life
• The Guardian, 30th July 2003: "Bash Street, the Beano and me"
Leo Baxendale recalls how the exploits of Dennis the Menace and co were dreamt up during games of office football
• In Praise Of... Leo Baxendale
Richard Sheaf highlights Leo's later work, such as Wicked Willy, her on downthetubes
• Artist Highlights: Leo Baxendale
A tribute to Leo on the Cartoon Museum's Comic Creators project
• In 2013 Leo was awarded a Lifetime Achievement British Comic Award and that is marked here
All images © respective copyright holders. The rights of Leo Baxendale to be identified as author of The Bash Street Kids, Minnie the Minx, Little Plum, The Three Bears, and The Banana Bunch, have been asserted in accordance with ss. 77 and 78 of the Copyright, Designs and Patents Act 1988