Every year, in the countdown to the Lakes International Comic Art Festival in October, we bring you a series of interviews with guests at the event. This "Festival Focus" for 2019 is with award-winning comic creators and Festival patrons Bryan and Mary Talbot, whose latest graphic novel, RAIN, a project supported by the Arts Council, launches at this year's gathering in Kendal.
Working in the comics medium for over 30 years, Bryan Talbot's stories have been published in over 20 countries and he is the winner of many comic awards – including an Eisner award, the Prix SNCF and several Eagles. Recognised as one of the most influential British comic artists, he is perhaps best known as both author and artist on his creator-owned projects, including The Adventures of Luther Arkwright, Heart of Empire, The Tale of One Bad Rat, Alice in Sunderland and the brilliant steampunk detective saga, Grandville.
Mary Talbot is an internationally acclaimed scholar of gender, language and power who now writes graphic novels. A freelance writer, working primarily on woman-centred innovations in the graphic novel format, she previously held academic posts for over 25 years, including Reader in Language and Culture at Sunderland University.
Her research and teaching interests have been, broadly, in language, gender and power, particularly in relation to media and consumer culture. Her first graphic novel, Dotter of Her Father's Eyes, with Bryan, published by Jonathan Cape, won the 2012 Costa Biography Award, making it the only British graphic novel to gain a major literary award.
Her second, Sally Heathcote, Suffragette (with Kate Charlesworth and Bryan Talbot), brought a strong narrative approach to complex historical material. The Spanish edition has received Best International Graphic Novel Awards from Gremio de Libreros de Madrid and Splash Segunt Cómic, and is now in its eighth printing.
Her third, The Red Virgin and the Vision of Utopia (with Bryan Talbot) appeared in May 2016, with funding from Arts Council England. Earlier this year, they received an International Trajectory Award for the 'creative coherence' of their work together from Splash Segunt Cómic.
In addition to RAIN, again working with Bryan, an environmentally-themed graphic novel centring on the late 2015 flooding in the North of England, Mary has also collaborated with Kate Charlesworth on a chapter for the dystopian SF graphic novel IDP: 2043, with Alwyn Talbot on a short strip for Cross: A Political Satire Anthology, with Kate and Bryan again for an Amnesty International anthology, Here I Stand, and with Bryan in a contribution to the Traces of the Great War anthology.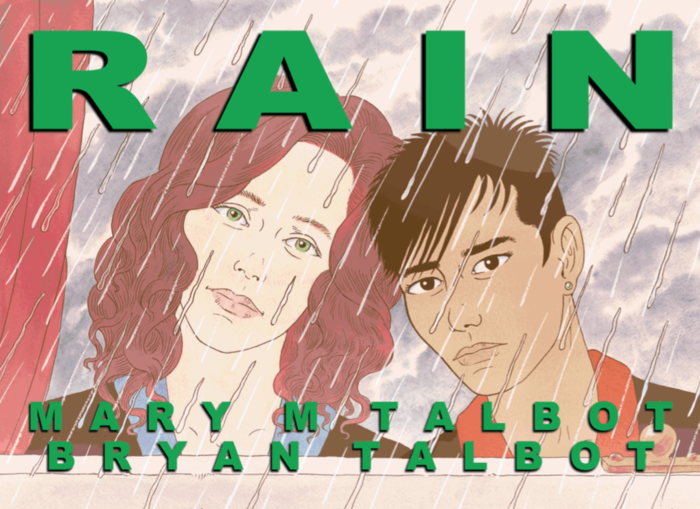 We're very much looking forward to the debut of your new graphic novel, Rain, at this year's Lakes International Comic Art Festival. For those who came in late, can you tell us what the book is about?
Mary Talbot: It's a present-day story about the grim issues of environmental degradation through climate change, land mismanagement and pollution. But it's also a love story, chronicling the developing relationship between two young women, one of whom is a committed environmental campaigner (and organic gardener!). It follows the everyday experiences of ordinary people, as they come to grips with what's going on around them.

What prompted this comic project? Was there a particular event that kicked the idea off?
Mary: It was prompted by the catastrophic flooding in the north of England in the winter of 2015, particularly the deluge that struck Hebden Bridge and Mythomroyd on Boxing Day. I started working on the project on New Year's Day and it developed very quickly.
The story covers quite a lot of ground, doesn't it? When we talked at last year's Festival, you mentioned you'd discovered people were warning about global climate change, even before the Industrial Revolution
Mary: As early as 1800, Alexander von Humboldt was predicting human-induced climate change, caused by the 'great masses of steam and gas' that industrial production was beginning to generate. He was the first person to look at the relationship between humanity and nature - he was thinking ecologically. Our story's set in present day, but he seemed like a fitting addition to begin and end it.
Was there a particularly surprising item you discovered, but couldn't fit into the story?
Bryan Talbot: The fact that the incredibly rich cultural life of the small town of Hebden Bridge is a direct result of the place being colonised by hippies in the early 1970s. During the 70s depression, almost all the local industries closed down, forcing people to move out in order to obtain work elsewhere. The house prices plummeted, attracting members of the counter-culture who wanted to move to a quiet town in the country.
Do you think RAIN will help humanise the issues we all face from the climate emergency, is that your hope?
Mary: Climate degradation and impending catastrophe for life on the planet - it's all overwhelmingly grim. It's just terrifying. I've tried to make the issues human-sized, so to speak, in order to be able to look at them. So the story engages with environmental issues through the lives of its characters, dealing with resistance and protest and the different form these can take. We need to feel we can do something.

After recent events at Whaley Bridge, and the floods Kendal suffered back in 2015, do you think there's now more determination from local people to campaign to prevent such disasters from happening?
Mary: There seems to be, though the particular environmental issue near where we live is open-cast mining rather than flood risk. I think we're more aware of campaigning via the media - Greenpeace, Friends of the Earth and so on and recently Extinction Rebellion and the amazing Greta Thunberg.
Are you working on other projects? For example, have there been any developments with bringing Grandville to TV?
Bryan: The production company, Euston Films, part of the Fremantle Group, have renewed the option for the third year running. The script for the pilot episode and the structure of the eight episodes that comprise the first series (he said, optimistically) has been written by a top TV writer but they still have to attach a director. With the vast amount of TV drama being produced at the moment, all the top directors are understandably booked up, so we're on hold until that's resolved.
Meanwhile, I've scripted and started drawing my next graphic novel – the third and final Luther Arkwright story. By the time it's published, in a couple of years, it'll have been 20 years since the second one, Heart of Empire.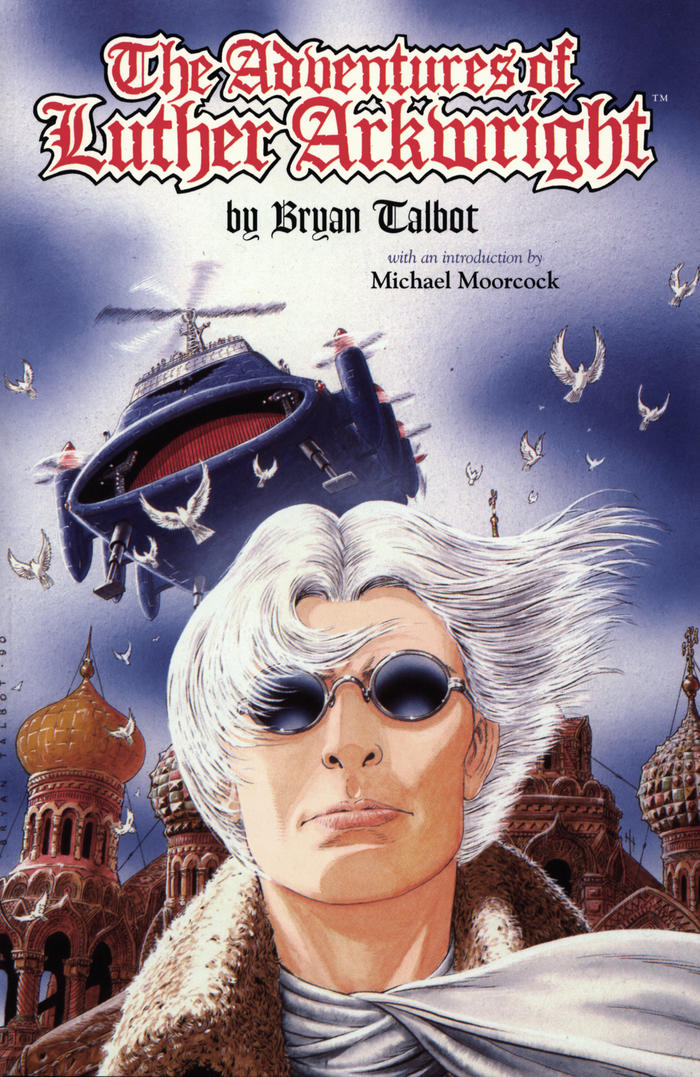 Mary: One very surprising development has been sample extracts of a proposed opera based on Dotter of her Father's Eyes. These were performed as part of the Worldcon Philharmonic Concert at this year's World Science Fiction Convention in Dublin.
An opera based on Dotter has been an ambition for composer Gary Lloyd and choreographer Bettina Carpi for quite some time. I was delighted to join them in composing accompanying lyrics to their three music and dance pieces (first performed in 2015 at Huddersfield Literary Festival).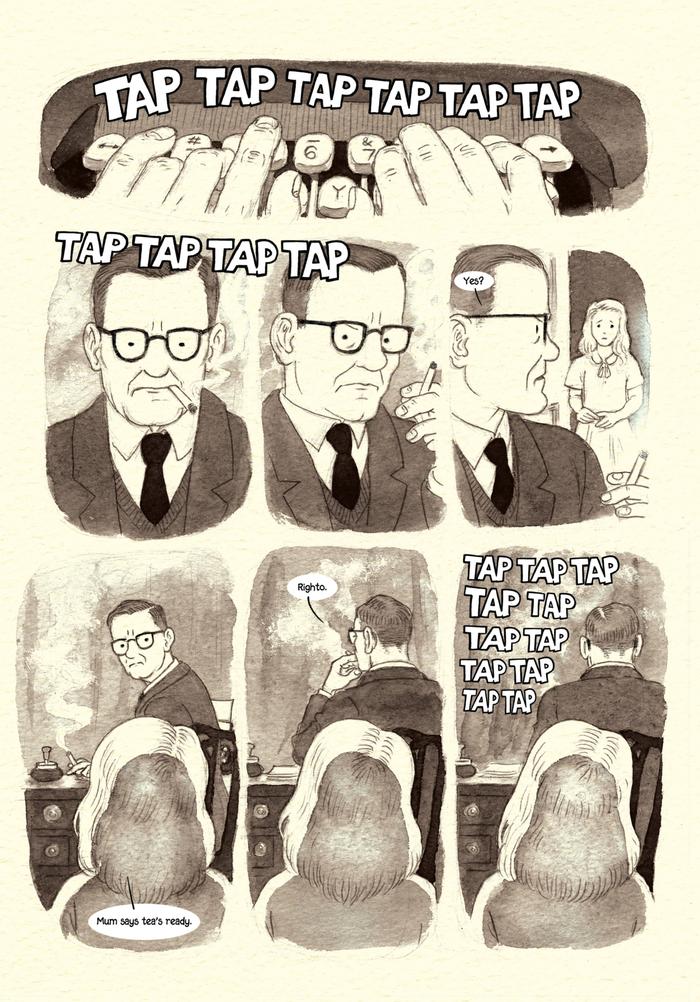 You've both supported the Festival from the start, with the range of European guests forming part of this year's line up and the support it receives from a wide range of European arts organisations, do you think it's shaping into the Angouleme-style event you'd hoped at the beginning?
Bryan: I certainly hope so. Julie [Tait] and her team do such a great job that I'm sure it will continue to grow. The only thing holding it back a little is the lack of hotels in the town to accommodate bigger audiences, though there are many B & B places, and hotels within a very short drive.
Do you think there's more interest in the comics form in the UK today, or do you feel the medium is still battling for recognition?
Bryan: There is definitely more interest today than ever before. The graphic novel form has been the fastest-growing area of publishing for over the last ten years, and there is an obvious growing acceptance of comics as a legitimate art form, with examples far too numerous to mention.
How do Festivals and other comics events help creators most, do you think?
Bryan: Spending most of my time alone in the studio, it's great to meet readers and to get feedback about the stories and the encouragement that positive reinforcement brings. It's also inspiring to see the exhibitions and meet others artists and writers. It gives you the feeling that you are part of an international community of comic creators and publishers.
What one piece of advice do you offer people looking to work in the comics industry?
Bryan: Divine endurance. The more you do it, the better you get, and the more likely you are to get published. Luck can play a part but, as I think Neil Gaiman once said, "It's incredible that the harder you work, the luckier you seem to get!"
What's your favourite comic right now and where can people get it?
Bryan: Both Mary and I would have absolutely no hesitation in nominating Sensible Footwear: A Girl's Guide by Kate Charlesworth, published by Myriad. Should be available from all good book or comic stores, or direct from Myriad.
Mary, Bryan, thank you very much for your time. Looking forward to seeing you again in Kendal!
• The Lakes International Comic Art Festival is back in Kendal in the Lake District 11th – 13th October 2019: www.comicartfestival.com | Podcast | Instagram | Facebook | Twitter |Youtube
• Want to receive news about the Lakes International Comic Art Festival? Then sign up for their newsletter now 
BRYAN TALBOT ONLINE
MARY TALBOT ONLINE
Alexander von Humboldt
Alexander von Humboldt (1769-1859) was a nature researcher and explorer, universal genius and cosmopolitan, scientist and patron. His lengthy Latin American journey from 1799 to 1804 was celebrated as the second scientific discovery of South America. Members of natural science disciplines such as physical geography, climatology, ecology or oceanography see Humboldt as their founder. The masterpiece of his advanced years, the five-volume Cosmos: A Sketch of the Physical Description of the Universe, has remained unique in its comprehensive approach.
Alexander von Humboldt not only invested his inheritance in his own studies but also selflessly sponsored other young scholars and talents, among them Justus von Liebig and Felix Mendelssohn-Bartholdy.
• The Alexander von Humboldt Foundation
• 250 Years of Alexander von Humboldt - Cultural Forum
• Detektor.FM - Alexander von Humboldt - the first climate researcher? (in German)