Every year, in the countdown to the Lakes International Comic Art Festival, in partnership with the downthetubes web site, we bring you a series of interviews with guests at the event. Over 70 are attending in 2018 in October (and that's not including creators you'll find in the Comics Clock Tower).
This Festival Focus for 2018 is with Bobby Joseph, the critically acclaimed comic book author of Skank Magazine, Black Eye and the Scotland Yardie graphic novel.
He has written for The Guardian newspaper and Vice.com. His comic work was a prominent feature at the Anarchy in the UK comic exhibition at the British Library in 2015 and was seen by over 60,000 visitors.
He is a vocal advocate for diversity and BAME representation in comic books and is credited on the BBC website as instrumental in featuring some of the "first comics by black creators featuring black characters."
Bobby, what are you working on, comics-wise, right now, and when will it be published?
Bobby: I am working on a new project called Skank with the critically-acclaimed Scotland Yardie artist Joseph Samuels. It is a graphic novel about the death of my daughter. We are looking for it to come out next year.
It's a tough one to do, but at the same time, it's bringing the best out of me as a writer. The script's tight and Joe's knocking it out of the park with his visuals!
I am also working on a children's graphic novel with the Hackney artist Daniel Francis (or Danny F as he's known as). Danny wanted to do a children's graphic novel. I looked at how graphic novels aimed at kids were like, and though cute, they bored the crap out of me. So hopefully we've come up with something different and a bit mo' funky!
It is about a significant event that changed British history. We are looking at getting that one released for next year as well.
Which comic project you've worked on are you most proud of and where can people see it or buy it?
Bobby: I am really proud of the graphic novel Scotland Yardie. From a writing point, I got all the comedy beats right! I wanted to do something where there were gags on nearly every other page.
This book was a challenge. It's a layered book that can be read three ways, a satirical book that is very relevant to what's going on with Brexit and racism in the UK. It's done really well. Better than I expected. You can get it from all good book shops (and some bad ones too). Alternatively, it can be bought on Amazon.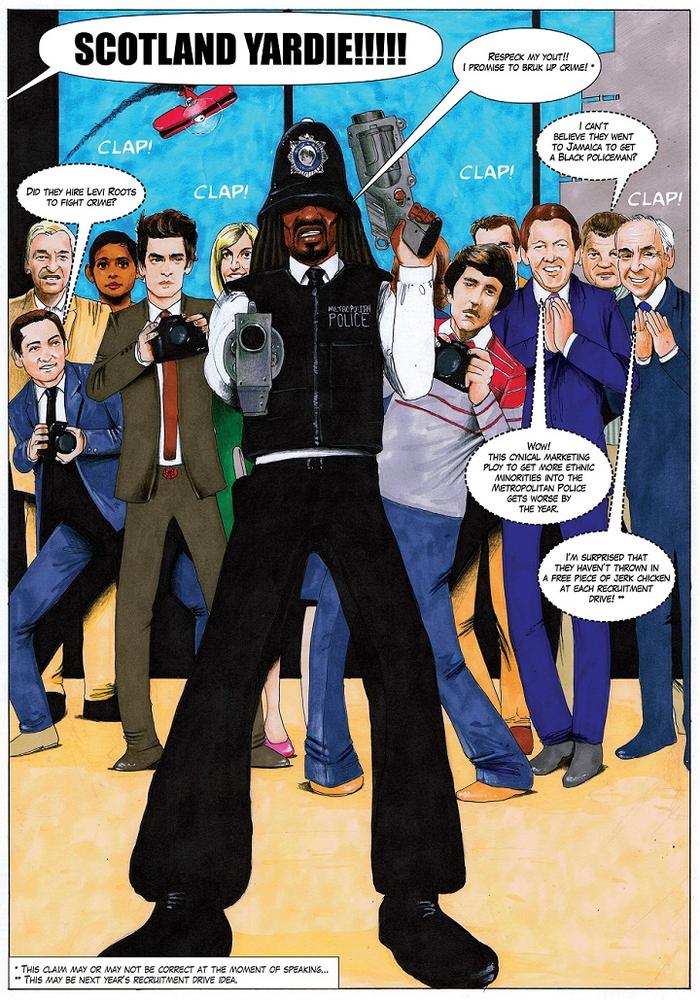 How do you plan your day as a creator? (Do you plan your day?)
Bobby: The plan is simple – I just crack on. I may have some music on, but that might depend on the piece I'm writing. Sometimes I use music to set a mood. Regardless, I make sure I write something every day. That's it. That's the plan. Once that's done then it's all good! I'm a happy chappie!
What's the best thing about being a comics creator?
Bobby: For me, it's the collaborative process between the writer and the artist – the synergy of ideas. Seeing what's in my brain, illustrated on the page is still a massive thing for me. I still get a kick out of that. Also, I love getting a book with my name on it and the book having that freshly published smell. Nothing beats that!
And the worst?
Bobby: Having to explain to mofos that I don't write stuff like Spider-Man, because if I did – then Spidey would have webs shooting out of his ass! And no! I don't write the word bubbles in the comic panel either, but yes I do at the same time.
What most distracts you from getting your work done?
Bobby: Googling pictures of my beautiful face on the net! That shit can be time consuming!
Do you think it's easier or harder for young comic creators to get published today?
Bobby: I think it's easier. The hustle is different. You can create an audience online and sell your books! You can become your own publishing outfit via Kickstarter and stuff like that. This is my advice for new cats – go build your own empire!
Have you ever been to the Lake District before and if so what did you think of it? If you haven't, what are you expecting?
Bobby: I went last year. I was a tad worried that I may have got the odd look from the locals. That shit never happened! The people from Kendal were absolutely lovely… very welcoming to my loud, Indian ass! I absolutely loved my time there. I loved them. Top people! Looking forward to going back and hanging out!
Which one comic creator would you most like to meet, and why?
Bobby: I would like to meet the comic legend Frank Miller! So he can give me a refund for Xerxes!!
How do Festivals and other comics events help creators most, do you think?
Bobby: It brings people together. Creators can make new friends, readers and meet potential collaborators or even publishers! But most of all, creators can get completely rat-assed drunk with new and old friends!
What one piece of advice do you offer people looking to work in the comics industry?
Bobby: Kid, you're one of the best. Do comics. Comics will unbreak your heart.
What's your favourite comic right now and where can people get it?
Bobby: I have too many dang favourites... The Beef is amazing. Love me some Shaky Kane! Just got into Deathnote by Tsugumi Ohba and Takeshi Obata – which is great!
Then there's Infidel by Pornsak Pichetshote and Aaron Campbell – that shizzle is off-the-chart! Oh yeah, and not forgetting The Tempest by Alan Moore and Kevin O' Neil. Love it! Feeling it!! Mo' please!!
Bobby, thank you for your time and we look forward to seeing you in Kendal in October!
• The Lakes International Comic Art Festival will be back in Kendal 12th – 14th October 2018. Tickets for the Festival are on sale now.
• Web: www.comicartfestival.com | Facebook | Twitter | YouTube | Podcast 
BOBBY JOSEPH ONLINE
• Web: skankmagazine1994.blogspot.com
• Twitter: @skankmagazine
• @skankmagazine
• Instagram
Interview questions and feature by John Freeman