The annual Lakes International Comic Art Festival may be virtual this year, but it isn't forgetting its roots, ahead of its weekend-long comics celebrations next month.
Plans are afoot for a special "Illuminos" event to promote the Festival's virtual plans with a "lighting up" of Kendal Town Hall, the week before the virtual event kicks off on Friday 9th October - a weekend long-digital delight combining pre-recorded interviews with some live events, which will be beamed across the internet from a secret location in the North West.
LICAF is working with one of the leaders in the field of digital mapping and performance projection on this special event taking place on both Thursday 1st and Friday 2nd October, who also go by the name of Illuminos. The Ramsbottom-based company's previous projects have included events at Chatsworth House and as part of the Manchester International Festival.
The Kendal event will celebrate the unique contribution of LICAF and Kendal to British comics and include newly commissioned material from comic creatives like Dave Gibbons, Michael Lark, Bill Morrison and Lucy Sullivan.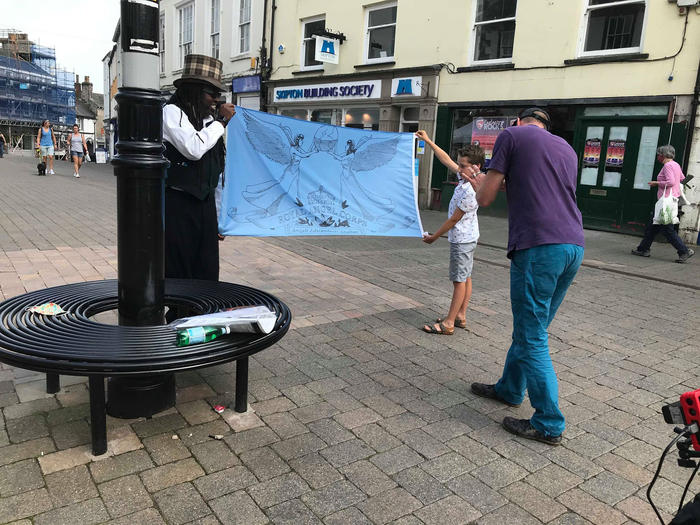 Over the summer, comic creators Steven Appleby, Yomi Ayeni  and Bryan Talbot, along with Festival patron, comic shop owner and comics champion Stephen L. Holland, took part in the recording of material for Comics, Clouds and Kendal Mint Cake in the Lake District, talking about how the area has inspired them and their work, as has  works based in the area, such as Arthur Ransome's Swallows and Amazons.
Recording took place around and on Lake Windermere, in Kendal itself, and other locations.
The Festival has also been building its work with local schools over the summer, now proceeding full pelt with local pupils back at their desks, with all work paying close attention to latest COVID-19 advisories, and its LITTLE LICAF programming is being bolstered by a new promotional pages on Facebook and Instagram, with events that will include special workshops with top illustrator Sarah McIntyre.
LICAF Live will include guest panels, live events, virtual exhibitions, creator workshops and much, much more are also in the works, along with a carefully-curated strand for young comic fans and aspiring creators, LITTLE LICAF - which has support from BEANO comic.
"Planning our virtual version of the Lakes International Comic Art Festival has been quite a challenge," says Festival Director Julie Tait, "but with over 50 creators actively lined up to take part, plus our Virtual Comics Clock Tower participants, we think we have a great weekend in the works.
"We're very grateful to our funders, local partners and commercial sponsors, including Lenovo and Southern GFX, for their support for this new venture in these difficult times."
•  The LICAF "Illuminos" Event will take place at Kendal Town Hall on Thursday 1st and Friday 2nd October. The running time is 20.00 - 21.30. The event has a 15 minute run time so attendees can come at any time between 20.00 - 21.30 and enjoy. The Festival would like to emphasise that in order to support the observation of social distancing, there is no need for everyone to all be there at 20.00. The Lakes International Comic Art Festival LIVE 2020 will run from Friday 9th - Sunday 11th October 2020
• Imagery included in this release can also be obtained here along with other related resources
• For the latest news about Lakes International Comic Art Festival Live 2020 visit www.comicartfestival.com | Facebook | Twitter | YouTube | Podcast | Tapas | Sign up for the Lakes International Comic Art Festival Newsletter: http://eepurl.com/dl479j
• The Virtual Comics Clock Tower is online at licafclocktower.com
• LITTLE LICAF is on Facebook and Instagram
• Lakes International Comic Art Festival 2021: 15th - 17th October 2021