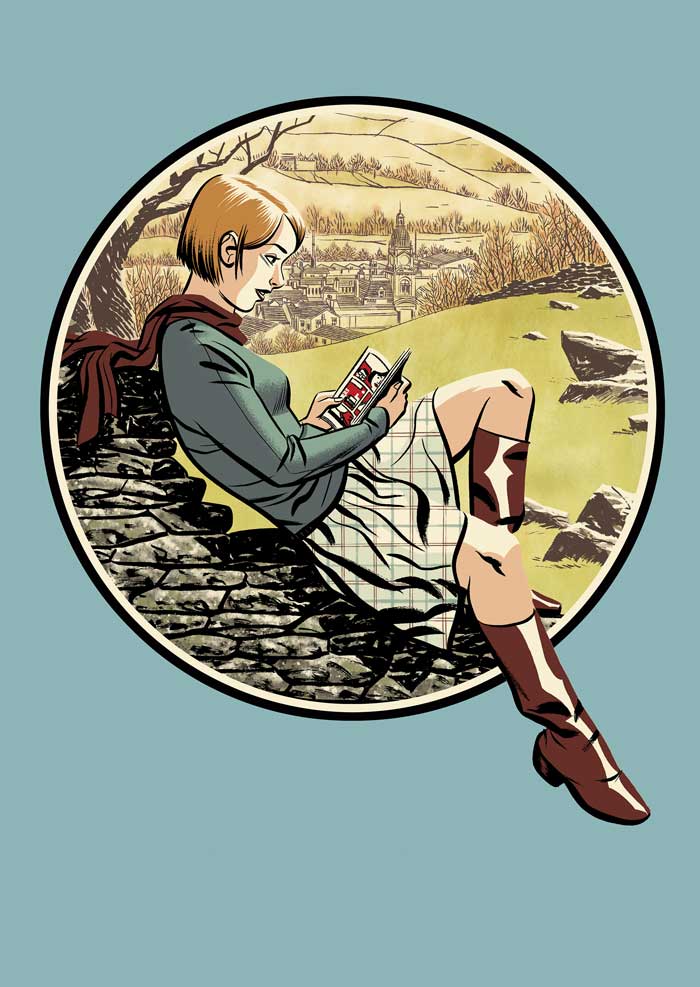 The Lakes International Comic Art Festival is delighted to reveal top artist Michael Cho's artwork for this year's Festival in October.
Michael is of course best known for his Silver and Bronze age superhero comics aesthetics and his recent reprint collection covers which have wowed the comic art world and beyond. His own graphic novel, Shoplifter, was a New York Times best seller on release. 
"We are proud that he has designed LICAF's 2017 artwork," says Festival Director Julie Tait.
"My philosophy on approaching Michael to create it was, if you don't ask you don't get! I think he is a superb artist and designer creating really distinctive artwork.
"Luckily he said yes and the result I think beautifully evokes the festival and our lovely town. We've been excited to reveal it for some time...."
Michael says he is looking forward to visiting Kendal in October. " In the course of doing research for the poster for LICAF, I saw a lot of images of the Lakes District and I was floored. I kept calling my wife over and saying "Look at how beautiful this place looks! And we're going there!"
Michael Cho is part of a huge line up of both British and globe-spanning international comics talent is being lined up for this year's Lakes International Comic Art Festival, taking place 13th – 15th October 2017 and tickets are on sale now.
International guests include Sergio Aragones, Jason Latour, Aimée de Jongh, Bruce Mutard, Ryan North, Ivan Petrus, Stan Sakai, Rick Stromoski, Mariko Tamaki, Jillian Tamaki and Chip Zdarsky. 
From the UK and Ireland the line-up offers creators such as Comics Laureate and Walking Dead artist Charlie Adlard, Hannah Berry, Gareth Brookes, Jonathan Edwards and FeltMistress (aka Louise Evans), the Etherington Brothers, Duncan Fegredo, Brendan McCarthy, Peter Milligan, Sean Phillips, Tony Husband, team Metaphrog, Bryan Talbot, Mary M. Talbot, Emma Vieceli and Christian Ward.
The Festival will also have a special delegation of creative talent from Finland, in partnership with the Finnish Institute, along with many Moomin-themed celebrations. The line-up we can reveal so far includes Johanna Rojola, the equivalent of our Comics Laureate in Finland - and one of Finland's leading comic artists; and comics art rock star, Petteri Tikkanen.
The Comics Clock Tower will also be packed with comic creators from across the UK and beyond, who will be announced in May.
 
The Festival is the only one of its kind in the UK, taking place in one of the UK's most beautiful areas – the English Lake District in the North West of the country, in the market town of Kendal. Modelled on European-style festivals, such as Angoulême in France, it takes over the whole town for a weekend of comic art. Its aim is to celebrate the whole spectrum of comic art, inspiring existing comic art fans and creators and, it hopes, generating new audiences and creators too. It invests in creators through a commissioning programme and has an emphasis on developing international collaborations.
• Buy your tickets for the fifth Lakes International Comic Art Festival here
• Read an interview with Michael Cho on the Festival web site
• For all events information visit the Lakes International Comic Art Festival web site: www.comicartfestival.com | Find the Lakes International Comic Art Festival on Facebook | Follow the Festival on Twitter @comicartfest