Artwork from 'Sea Sketch' - Simon Armitage and Dave McKean
Artwork from 'Without a Trace' - Robbie Morrison and Charlie Adlard
Artwork by Edmond Baudoin for Traces of the Great War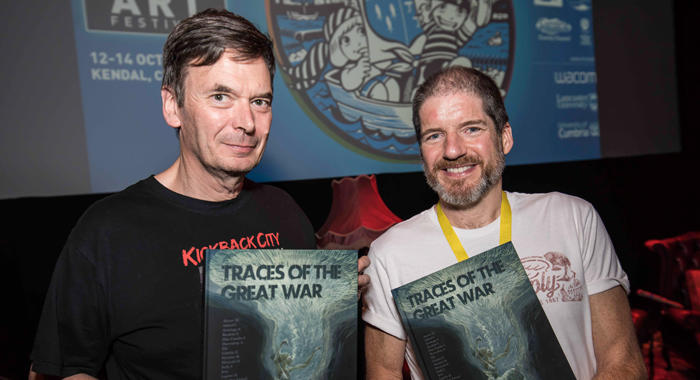 Ian Rankin and Charlie Adlard with copies of Traces of the Great War at LICAF 2018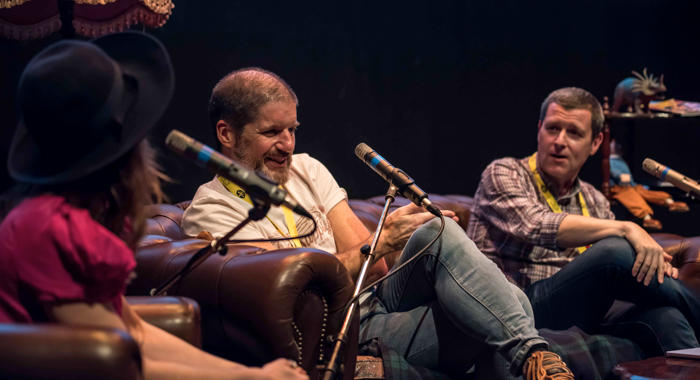 Charlie Adlard and Robbie Morrison interview at the launch of Traces of the Great War at LICAF 2018
Traces of the Great War supporters
Writer Ian Rankin, poet Simon Armitage and the UK's Comics Laureate Charlie Adlard are amongst the creators to collaborate on new First World War educational resources
Based on the ambitious comic anthology 'Traces of the Great War', the online learning resources offer teachers of English, History and Humanities a framework to study aspects of WWI and its legacy though narrative, discussion and artistic expression.
'Traces of the Great War' is a remarkable collection of thought provoking graphic narratives, by internationally acclaimed comic book artists, graphic novelists and writers, which explores the continued relevance and resonance of the First World War and its aftermath in our lives today.
These unique Key Stage 3 cross-curricular resources provide teachers with exciting new activity ideas and lesson plans. The toolkit aims to encourage students to engage with this profound topic both critically and creatively, designed as a series of easy-to-use templates that could also act as an inspiring springboard for teachers' and students' to develop their own projects and lessons.
The resources are free to download as both a PDF and PowerPoint presentation here
"Comics have an amazing power to connect with people and tell stories in different ways. I hope this anthology will reach out to new audiences and demonstrate the continuing relevance of the Great War on our lives today. It has been a privilege to be involved."

- Charlie Adlard, the UK's Comics Laureate 2017-2019
The educational resources are authored by Natasa Lackovic of Lancaster University Educational Research Department, a Director of the university's graphic novels and comics network, ReOPeN, and have been commissioned by the Lakes International Comic Art Festival and 14-18 NOW - the UK's arts programme for the First World War centenary. The resources are informed by the successful pilot project undertaken at the Queen Elizabeth School (QES) secondary school in Kirkby Lonsdale, Cumbria.
"Students loved the cross-curricular element and really appreciated being able to use online sources too alongside the book. It certainly links well with our curriculum and we can see the advantages to the cross-curricular approach in relation to stretching students ready for KS4."

- Teacher from Dallam School, Milnthorpe (who piloted the Online Resource with KS3)
About Traces of the Great War
An anthology of eighteen illustrated short stories from both the UK and around the world. Traces of the Great War includes a number of collaborations between graphic artists and writers (Dave McKean with poet Simon Armitage, Sean Phillips with novelist Ian Rankin, Charlie Adlard with Robbie Morrison) and between artists and illustrators who have never worked together before (Juan Díaz Canales and Kris).
Traces of the Great War: ISBN 978-1-5343-1150-3 published in 2018 by Image Comics, hardback price £12.00, was launched at the Lakes International Comic Art Festival, Kendal, in October 2018. It is available from Page 45, Waterstones, through bookshops and Amazon.
Traces of the Great War was commissioned by 14-18 NOW, the UK's arts programme for the First World War centenary, La Mission du Centenaire de la Première Guerre mondiale, On a Marche Sur Le Bulle and the Lakes International Comic Art Festival. It was supported by the National Lottery through Arts Council England, the Heritage Lottery Fund and by the Department for Digital, Culture, Media and Sport.

//
The artists and writers whose work is included in the Online Resource
Charlie Adlard
Best known as the artist for the globally celebrated The Walking Dead comic series, Charlie Adlard is also the UK's Comics Laureate 2017–2019.
Simon Armitage
Yorkshire born Simon Armitage is an award-winning poet, playwright and novelist, appointed as Professor of Poetry at the University in Leeds in 2017.
Edmond Baudoin
A French artist, illustrator, and writer of sequential art and graphic novels, Edmond Baudoin is known for his atmospheric artistic approach using bold black and white brushstrokes.
Denis Lapière
Denis Lapière is a Belgian comic book writer, who has been a co-author on various projects including the 'Comme tout le monde' and Michel Vaillant series.
Maël
Martin Leclerc, known as Maël, is a Paris-based comic artist, who leads a double life as the lead singer of folkrock group HitchcockGoHome!
Dave McKean
Dave McKean is an award-winning English illustrator, comic book artist, filmmaker and musician, who has collaborated with Neil Gaiman, Heston Blumenthal and Stephen King amongst others.
Robbie Morrison
Known for his work on 2000 AD, Robbie Morrison is a British comics writer and co-creator of the popular character and series Nikolai Dante, serialised for 15 years until 2012.
Orijit Sen
Orijit Sen is an Indian graphic artist and designer, his graphic novel River of Stories, published in 1994, is considered to be the first graphic novel of India.
Bryan Talbot
Bryan Talbot is now published in over twenty countries and is the winner of many comic awards – including an Eisner award, the Prix SNCF and several Eagles.
Mary Talbot
Mary M. Talbot is an internationally acclaimed scholar of gender, language and power who now writes graphic novels.
//
Project partners
14-18 NOW
14-18 NOW is a programme of extraordinary arts experiences connecting people with the First World War, as part of the UK's official centenary commemoration. It commissions new work by leading contemporary artists across all art forms; the programme has included over 200 artists from 35 countries, taking place in 160 locations across the UK. Over 30 million people have experienced a project so far, including 7.5 million children and young people. 16.7 million people took part in LIGHTS OUT in 2014, and 63% of the population were aware of Jeremy Deller's, 'We're here because we're here'. The UK tour of the poppy sculptures by artist Paul Cummins and designer Tom Piper has been seen by over 4 million people to date. 14-18 NOW has won many awards for its work, including the National Lottery Heritage Award, 2017.  2018 is the final season, marking 100 years since the end of the First World War. 14-18 NOW is supported by the National Lottery through the Heritage Lottery Fund and Arts Council England, by the DCMS with additional funding from The Backstage Trust, Bloomberg Philanthropies, Clore Duffield Foundation, NatWest and support from individuals.
For more information visit www.1418now.org.uk
LAKES INTERNATIONAL COMIC ART FESTIVAL (LICAF)
The Lakes International Comic Art Festival (LICAF) established in 2013 is the only comic art festival in the UK that regularly commissions new work. The festival supports artists in raising their ambition and tackling new creative challenges. LICAF aims to build new audiences for comic art by organising a lively, exciting and ambitious annual festival that caters for a wide spectrum of comic fans and welcomes new ones.
For more information visit www.comicartfestival.com
ON A MARCHE SUR LA BULLE (OMB)
In France, in Amiens, On a Marché sur la Bulle is a unique association and resource centre for bandes dessinées. It works year-round on comics with a nine-person team, developing, among other interventions, a wide variety of projects and resources for mediation and educational purposes. The association organises the Rendez-Vous de la Bande Dessinée d'Amiens, annually on the first weekend of June. This festival is recognised as one of the four major comic art festivals in France.
For more information visit bd.amiens.com
LA MISSION DU CENTENAIRE
France's First World War Centenary Partnership Program is a public interest group established in 2012 by the French Government for the preparation and implementation of the commemorative program for the First World War centenary.
For more information visit centenaire.org