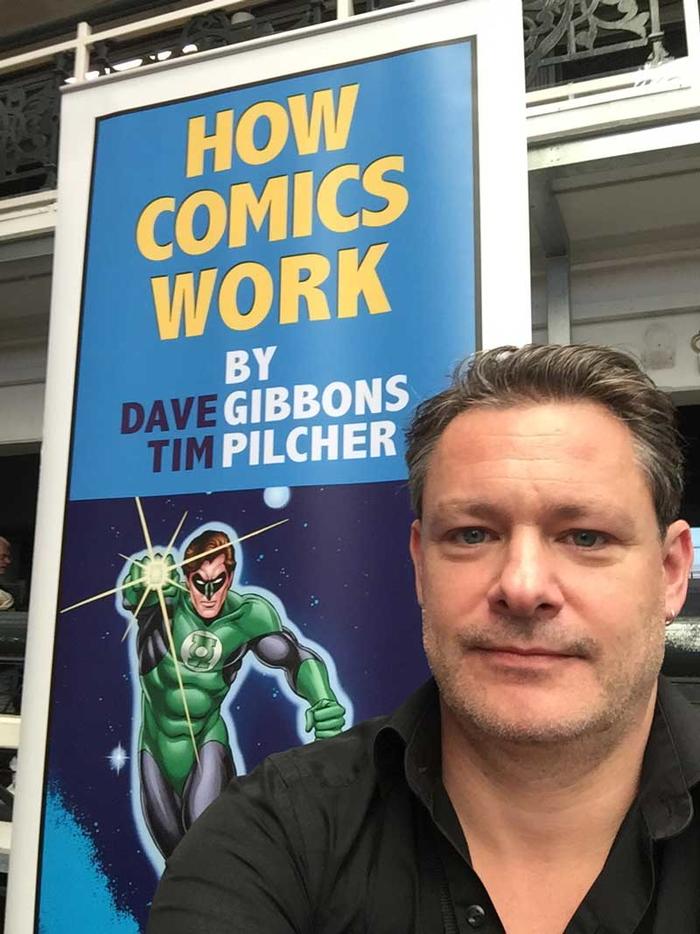 Breakthrough project co-ordinator Tim Pilcher talks about the people who helped him find his feet in the comics industry, and how that has led to the Lakes International Comic Art Festival's innovative new project to develop new comics talent...
Breakthrough is an 18-month mentoring initiative set up by the Lakes International Comic Art Festival, in conjunction with Arts Council England, Wellcome Trust Fellowship, Soaring Penguin Press, Quarto Books and other partners, with the aim of giving under-represented individuals a chance to express themselves through the medium of comics - and to hopefully open up a career pathway within the publishing industry.
• There are more detail of the Breakthrough Project here on our web site
Most people owe their careers to someone. Whether it's simply through inspiration and influence or direct involvement through nurturing and encouragement. My own career owes a debt of gratitude to several main mentors in my life, without whom I probably wouldn't have got where I am today—although I can't lay all the blame at their door!
First is Paul Hudson, who owned three Comic Showcase shops in London, Oxford and Cambridge. Paul hired me as a lowly bagger of comics in the corner and I slowly worked my way up to managing the London shop over four and a half years. I learnt so much there about the comics industry including its incredibly deep and varied history from many learned collectors and customers, through to the creation of comics by dealing with the original artwork sales and liaising with creators like Sean Phillips, Kevin O'Neill, Dave Gibbons, and Brendan McCarthy.
All this knowledge would have been inaccessible to me at the time had Paul not decided to take me under his wing and give me a chance. I wrote all about it in my memoir, Comic Book Babylon.
Sadly the shops are all gone now, but you can still bump into Paul occasionally still dealing comics at the London Comic Mart. Comics are impossible to get out of your blood, after all!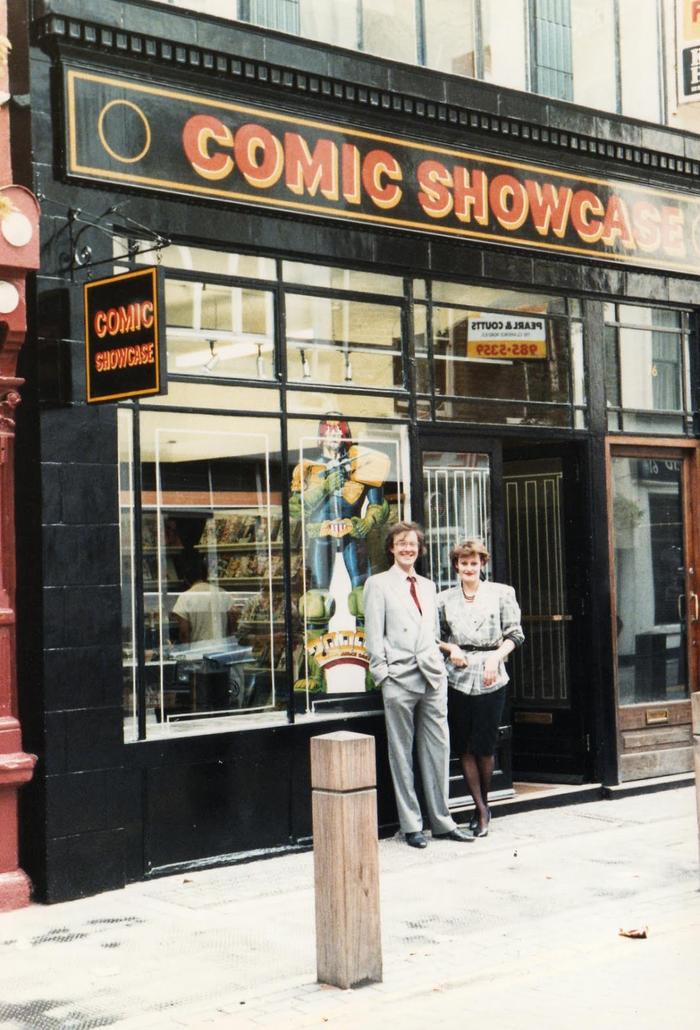 Above: Paul and Sally Hudson at the opening of Comic Showcase London in Neal Street
While working at Comic Showcase I studied colouring under the tutelage of one of the most underrated, but best beloved, UK comic creators, the late Steve Whitaker. His colour work on V For Vendetta and the groundbreaking work he did with Nick Abadzis on Grant Morrison and Steve Yeowell's The New Adventures of Hitler shine out as masterpieces. "Witko" taught me colour theory, how to mark up colour pages for separators, creating bluelines, and hundreds of other helpful skills that gave me insights into the mechanics of comics.
The next important mentor I had was DC Comics Editor Art Young. Art took a risk by hiring me as his Assistant Editor despite my very obvious lack of experience. I learnt vast amounts from him. Not only about how to edit comics, but life in general. The debt of gratitude I have for him runs long and deep and frankly there's not enough space here to list the amount I learned from him while working at DC/Vertigo.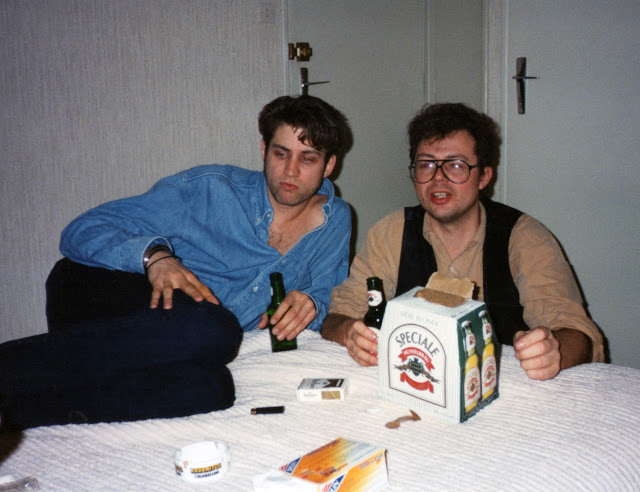 Art Young (left) and Paul Johnson in Angouleme circa Jan 1993
Finally, there was Dez Skinn. With Dez, I learnt just as much what NOT to do, as I did what to do. I picked up a plethora of incredibly useful skills including "writing to fit" while working as Associate Editor on Comics International. Even to this day I'm amazed how many people don't know how to do this, but it has stood me in excellent stead over the years when trying to get an article to fit an exact word count. My work on CI and the sadly unsuccessful Toy Max magazine gave me huge insights into periodical publishing and how hard it was back in 2003 (and the nigh impossibility of it today)! Plus, the importance of not leaving everything to the last minute—although I'm still working on this one!
Dez Skinn
All of this "on the job education" made me realise how important it is to pass these skills and knowledge on to others and to become a mentor myself (even though that still sounds incredibly arrogant to me). I managed to do this with two projects for QueenSpark Books, working alongside Paul Collicott, on Brighton: The Graphic Novel and Brighton's Graphic War. I acted as editor and writers' mentor on the books, and Paul was the artists' mentor. The first book went on to be the publisher's bestselling title in their 45-year history and helped launch the professional careers of Pete Katz, Jaime Huxtable and many others. One of the creators, Ottilie Hainsworth, went on to produce her own graphic novel, Talking to Gina, with Myriad and even to mentor her own students at The Phoenix Art Gallery.
I continued this mission of sharing knowledge with last year's Eisner nominated How Comics Work with Dave Gibbons where we analysed what makes comics tick for the next generation of creators. Dave had previously gone on to be a mentor to many by being the first Comics Laureate (between 2014-2016) with the The Lakes International Comic Art Festival.
Which brings me up to the present day. Along with LICAF I've just launched a brand new nationwide initiative called Breakthrough. Like Brighton: The Graphic Novel the aim is to give under-represented individuals a chance to expire themselves through the medium of comics and to hopefully open up a career pathway within the publishing industry.
We are interested in mentoring stories that reflect what it is like to live on or below the poverty line, concerns about identity and place in society, health and wellbeing and what it means to be a UK citizen. This can be done through fiction, comics, comics journalism, autobiography or any genre the cohorts feel is appropriate.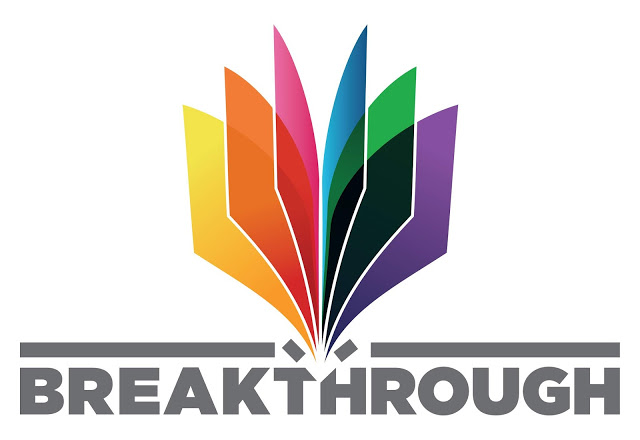 You find out more about the Breakthrough initiative and can sign up for it here on the LICAF website. Even if you're not eligible to take part please do spread the word to anyone you think would like to participate and could benefit! Deadline for applications is midnight on Friday 29 March 2019, so not long!!
There's something deeply satisfying about sharing knowledge and seeing people take the skills you've provided and then going off to create something incredibly new, vibrant and unexpected. I would suggest to anyone— whatever field you work in — with a particular skill set and a level of experience and competence that they should try mentoring and paying it forward, it's good for others, good for your industry and, most importantly, it's good for the soul.
• There are more detail of the Breakthrough Project here on our web site