The Rez, the UK's first major children's podcast series, uses comics, psychology, and a bit of silliness to spread its messages of kindness and resilience, and the whole series is available now.
The sci-fi podcast and a comic book, the latter created by comic creator Hannah Berry and drawn by Rachael Smith, are the perfect balm for today's troubled kids and worried minds, combining the voices of children in lockdown with performances by leading actors, wild sound design, and snappy writing to tell a story of two friends searching for a strange and ancient idea called 'kindness'.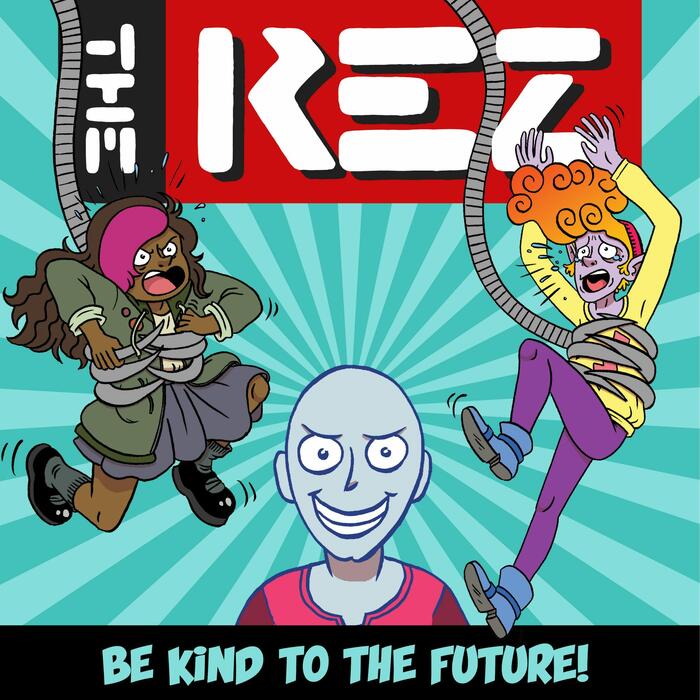 Former UK Comics Laureate Hannah Berry developed a story that is anarchic, funny, and exciting alongside a team of writers and psychologists, including Robin Banerjee, Professor of Kindness (yes, there is such a thing!) from the University of Sussex.
The Rez's heroes are played by Karl Queensborough, titular lead in the UK production of Hamilton)who who plays Preen, and Emily Burnett, 2019's Children's Performer BAFTA-winner, who plays Sav. Juliet Aubrey (BAFTA-winner for Best Actress) plays JEF the malevolent AI.
Actor and children's writer Nathan Byron was consulted throughout the development of The Rez, and takes the role of Tam in Episode 3. His first book, Look Up , won both the overall award and the illustrated book award at the 2020 Waterstones Children 's Book Prize.
The series also features the voices of real children in the 2020s, offering advice to our heroes taken from workshops and interview sessions from across the UK.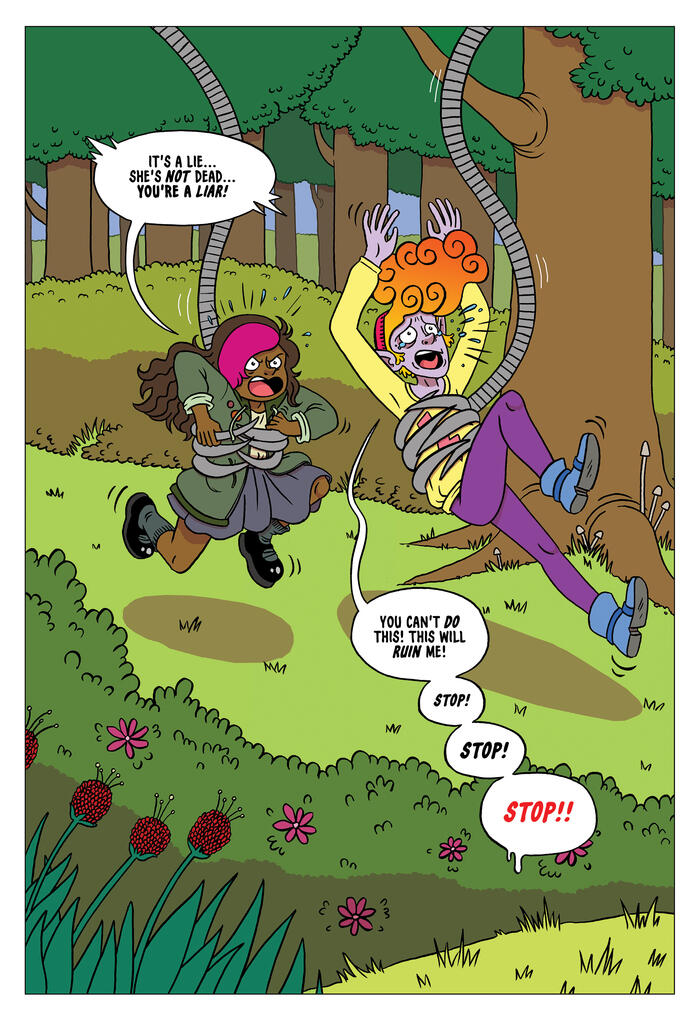 Recorded during lockdown in the Spring 2020, The Rez is set in a future where happiness is just another download. An epic social media fail prompts our heroes Sav and Preen to wonder what's missing in their "perfect" lives. Then they find
a bit of "old tech" that lets them reach back to today's children for help building meaningful relationships and defeating a cunning and sinister AI that wants to keep them under its control.
The Rez is distributed by the world's biggest children's podcast network, the US-based, Gen Z Media. All ten parts are online now, and are accompanied by a 10,000-copy print run of the comic, also available as a free PDF from the Soaring Penguin Press web site, which is being given away in schools, This includes Abraham Moss in Manchester, which is running research into children's reading habits as part of a Comics Art Europe project co-ordinated in the UK by the Lakes International Comic Art Festival.
Children can also contribute to the story on the web site and play games (with the occasional resilience and wellbeing message built in).
"Podcasting and comics are a natural partners," feels Hannah Berry,who was key to the development of the project and world, wrote the comic, and Episodes One and Five of the audio series. "They're great ways to tell stories that free-up the imagination, while talking directly to children about their worries and the way they see the world.
"That's what we wanted to do with The Rez, to create something that was fun and silly, but could also contain messages that really help children cope with the world."
"We know from our own research studies that the kindnesses we give to others, however small or large, is a foundation for making and keeping positive relationships," notes Professor Robin Banerjee, "and these relationships in turn serve as the bedrock of good mental health and wellbeing …
"Now, more than ever, we need stories like The Rez to shine a light on what really matters in young people's lives."
The production of The Rez is led by APA Gold award-winning drama producer Lance Dann, podcasting and youth media expert Dr. Martin Spinelli, and comics wrier, editor and publisher Tim Pilcher. Together, they've created a world that combines art, comics, and what will be the biggest podcast drama for children that has ever been released in the UK.
"Shows for children are the next frontier for podcasting," they say, "especially when shared by the family on smart speakers or in cars. We wanted to get in there early with The Rez, to show how it could be used to spread positive mental health messages, warmth, and of course lots of fart jokes."
• Listen to The Rez podcast and read The Rez comic at jointherez.com | Find out more about The Rez and download the free comic as a PDF here on the Soaring Penguin web site
• Single print copies of The Rez comic are available from Soaring Penguin Press here and multiple copies here