Traces of the Great War is an ambitious anthology of new illustrated short stories featuring over twenty internationally acclaimed comic book artists, graphic novelists and writers.
Part of 14-18 NOW, the UK's arts programme for the First World War centenary, the creative collaboration re-evaluates the impacts and legacy of WWI across a diversity of cultural, geographical and narrative viewpoints.
The aim is to introduce new audiences to the narrative of the Great War through the immediacy and wide appeal of the comic artform.
The stories explore the continued relevance and resonance of the First World War and its aftermath in our lives today.
Traces of the Great War features contributions from both the UK and around the world. The anthology includes a number of collaborations between graphic artists and writers (Dave McKean with poet Simon Armitage, Charlie Adlard with Robbie Morrison, Sean Phillips with novelist Ian Rankin), and between artists and illustrators who have never worked together before (Juan Díaz Canales and Kris, Régis Hautière and Thomas von Kummant).
Co-commissioned by 14-18 NOW: WW1 Centenary Art Commissions, La Mission du centenaire de la Première Guerre mondiale, On a Marché sur la Bulle and the Lakes International Comic Arts Festival. It is supported by the National Lottery through Arts Council England, the Heritage Lottery Fund and from the Department for Culture Media and Sport.
Traces of the Great War anthology launches in October 2018 at the Lakes International Comic Art Festival (Kendal, UK) and Salon du livre d'Albert (Albert, France), and is accompanied by touring exhibitions and a wide-ranging education programme. The project will also celebrate the historic alliance between Ulverston in Cumbria and Albert in the Somme. The twinned towns will be actively involved in the launch of the project.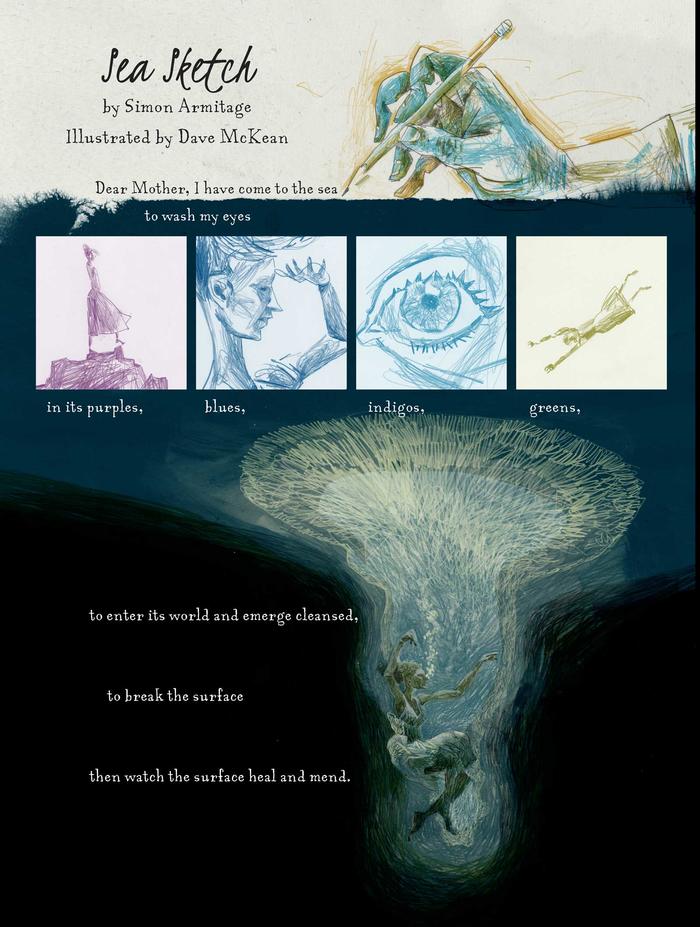 "Traces of War" - "Sea Sketch" by Simon Armitage & Dave McKean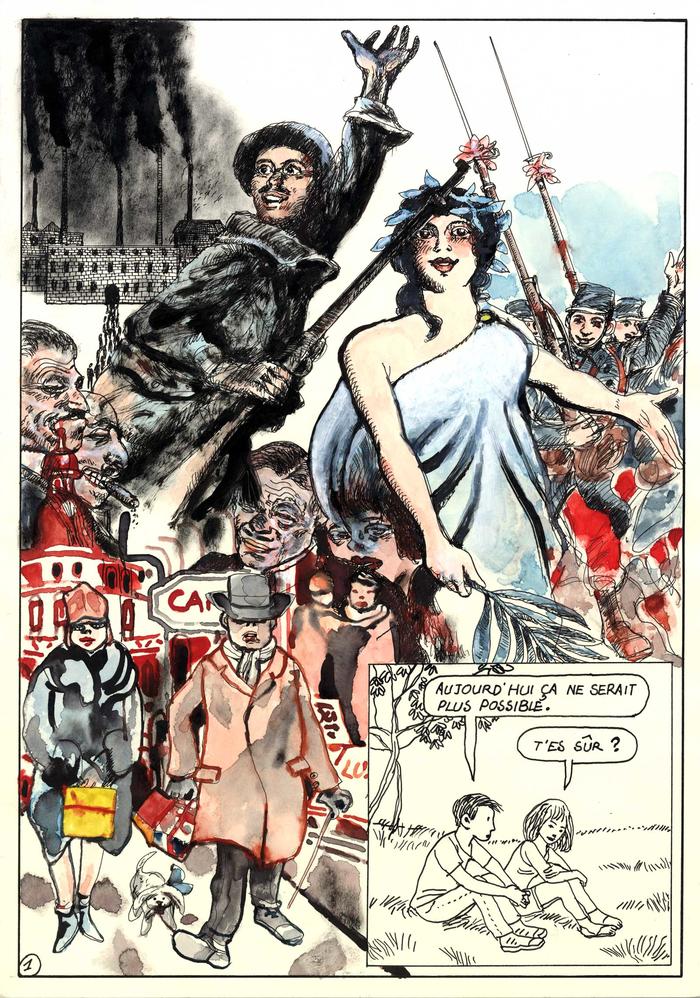 "Traces of War" - art by Edmond Baudoin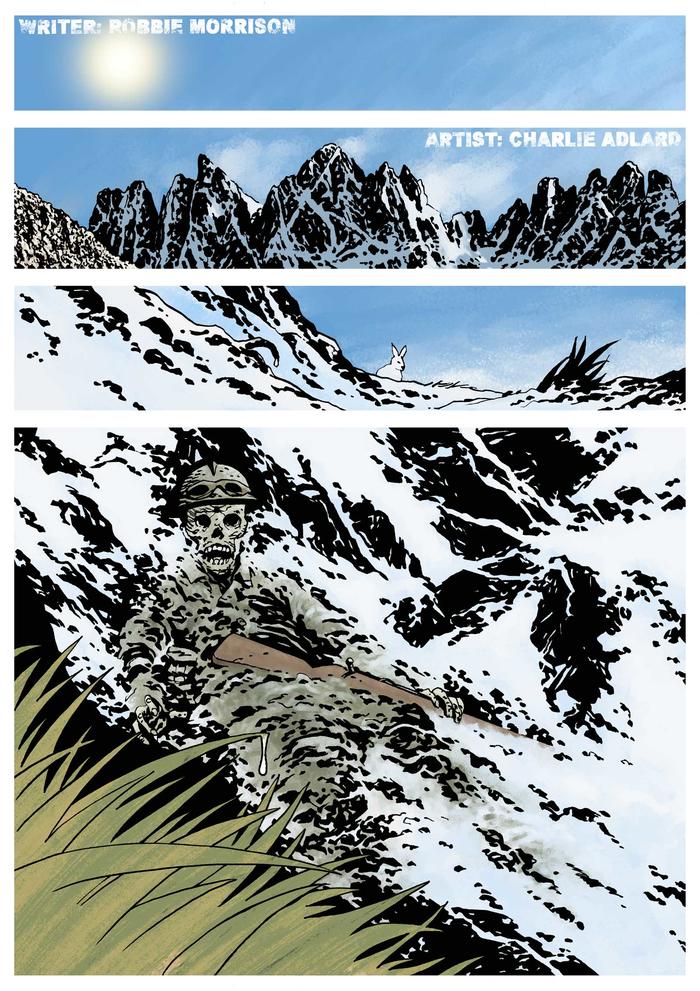 "Without a Trace" by Robbie Morrison & Charlie Adlard
The artists and writers confirmed to work on this project to date (listed alphabetically) include:
Charlie Adlard
Best known as the artist for the globally celebrated The Walking Dead comic series, Charlie Adlard is also the UK's Comics Laureate 2017 – 2019.
Simon Armitage
Yorkshire born Simon Armitage is an award-winning poet, playwright and novelist, appointed as Professor of Poetry at the University in Leeds in 2017.
Edmond Baudoin
A French artist, illustrator, and writer of sequential art and graphic novels, Edmond Baudoin is known for his atmospheric artistic approach using bold black and white brushstrokes.
Juan Díaz Canales
A Spanish comics artist and an animated film director, Juan Díaz Canales is the co-creator of the massively successful 1950s style detective series Blacksad.
Régis Hautière
Régis Hautière is a French comic book writer with an impressively eclectic bibliography, many of which have been award-winning.
Joe Kelly
Joseph "Joe" Kelly is an American comic book writer, penciler and editor who is co-creator of Ben 10 and has written titles such as Deadpool, Uncanny X-Men and I Kill Giants.
Kris
Kris is a French comics creator and writer. Working alongside Mael he created the comic series Notre Mere La Guerre.
Thomas Von Kummant
A German freelance illustrator, Thomas von Kummant's published works include The Chronicle of the Immortals.
Denis Lapière
Denis Lapière is a Belgian comic book writer, who has been a co-author on various projects including the 'Comme tout le monde' and Michel Vaillant' series.
Victoria Lomasko
Victoria Lomasko, born in Serpukhov, Russia, is a renowned graphic artist and activist who has lectured and written widely on graphic reportage.
Maël
Martin Leclerc, known as Maël, is a Paris-based comic artist, who leads a double life as the lead singer of folkrock group HitchcockGoHome!
Dave McKean
Dave McKean is an award-winning English illustrator, comic book artist, filmmaker and musician, who has collaborated with Neil Gaiman, Heston Blumenthal and Stephen King amongst others.
Mikiko
Mikiko is a London based German-japanese artist working in comics, Manga, game art, TV, teaching and illustration.
Ken Niimura
A cartoonist and illustrator based in Tokyo, Ken Niimura's graphic novel "I Kill Giants", co-created with Joe Kelly, has been adapted as a movie directed by Anders Walter.
Sean Phillips
An Eisner award-winning comic artist, Sean Phillips is also founder patron of the Lakes International Comic Art Festival.
Ian Rankin
Ian Rankin is an award-winning Scottish crime writer, best known for his Inspector Rebus novels.
Riff Reb's
Riff Reb's, whose real name is Dominique Duprez, is a French cartoonist, scriptwriter and founder of Asylum studios.
Robbie Morrison
Known for his work on 2000 AD, Robbie Morrison is a British comics writer and co-creator of the popular character and series Nikolai Dante, serialised for 15 years until 2012.
Orijit Sen
Orijit Sen is an Indian graphic artist and designer, his graphic novel River of Stories, published in 1994, is considered to be the first graphic novel of India.
Bryan Talbot
Bryan Talbot is now published in over twenty countries and is the winner of many comic awards – including an Eisner award, the Prix SNCF and several Eagles.
Mary Talbot
Mary M. Talbot is an internationally acclaimed scholar of gender, language and power who now writes graphic novels.
The project partners
14-18 NOW
14-18 NOW is a five-year programme of extraordinary arts experiences connecting people with the First World War. Working with arts and heritage partners all across the UK, we commission new artworks from leading contemporary artists, musicians, designers and performers, inspired by the period 1914-18.
On a Marche sur la Bulle (OMB)
In France, in Amiens, On a Marché sur la Bulle is a unique association and resource centre for bande dessinée. It works year-round on comics with a nine-person team, developing, among other interventions, a wide variety of projects and resources for mediation and educational purposes. The association organizes the Rendez-Vous de la Bande Dessinée d'Amiens, annually on the first weekend of June. This festival is recognised as one of the four major comic art festivals in France.