Charlie Adlard, best known as the comic artist behind The Walking Dead series, is the UK's Comics Laureate 2017 – 2019.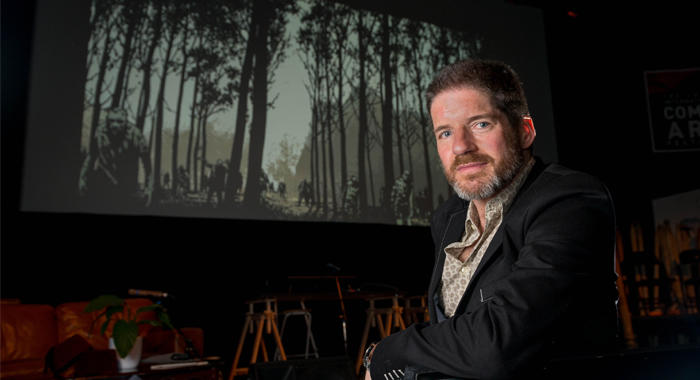 Charlie Adlard - the UK's Comic Laureate 2017 – 2019
The Walking Dead - artwork by Charlie Adlard
The Lake District - For Comics and Quiet Imaginings by Charlie Adlard for LICAF 2016
The Comics Laureate is an ambassadorial and educational role for the comic genre and aims to raise awareness of the impact comics can have in terms of increasing literacy and creativity. The Comics Laureate appointment is made biennially to a distinguished comics creator, writer or artist in recognition of their outstanding achievement in the genre.
Working closely with the Lakes International Comics Art Festival, the Comics Laureate will champion the role of comics in improving literacy through a programme of educational visits, workshop events, guest appearances and conferences. A key focus will be working to increase the acceptance of comics as a creative artform in schools, libraries and throughout the education system.
"The power of comics to encourage learning and develop literacy shouldn't be underestimated. Comics can connect with people who may never pick up a normal book and really help encourage a love of reading. I see this as a great opportunity to bring the wonder of comics to a wider audience."

- Charlie Adlard, UK Comics Laureate
Guest appearances include an event targeted at school librarians, literacy co-ordinators and those involved in literacy in schools in Birmingham; an event at the Toronto Comic Arts Festival in May, and a guest appearance at the Amiens Comic Festival in June. Additional dates and appearances will be added throughout the year.
For information on the Comics Laureate's upcoming appearances please contact Carole.
Charlie Adlard
Charlie Adlard is the artist behind the highly successful The Walking Dead comic series, now a popular TV series and video game. He's also worked on many other comic projects including 2000AD, Mars Attacks, the X-Files, Judge Dredd and X-Men.
Charlie Adlard picks up the baton from Dave Gibbons, the first Comics Laureate appointed in February 2015. Comic artist Dave Gibbons is best known for his artwork on Watchmen as well as numerous creative projects for Marvel, DC Comics and 2000AD.
Supporters
The Comics Laureate is kindly supported by Lancaster University, Peters (the UK's leading supplier of books and furniture for nurseries, schools, academies and public libraries) and Crescent Purchasing Consortium.
With additional support from Bryan Talbot.
You can download below an article by Benoît Peeters, the UK's Professor of Graphic Fiction and Comic Art at Lancaster University (in association with LICAF).