Meet Angellus… an angelic anti-hero who fights evil with a 'chakram'.
The chakram is a throwing weapon with a sharpened edge, it is not attached to Angellus' body but floats behind his head, reminiscent of an angelic halo.  
Angellus also has 'wings' which are not what they appear. They are actually portals to other dimensions where he is able to go and fight against the evil doings of others.
The clothing that Angellus wears is designed so that he can achieve ease of movement and the back of his tunic is open to accommodate the wings.
Second Sphere is the hierarchy of angels who are the governors of heaven and Angellus is part of 'The Powers' who are warrior angels. They oppose the legions of Hell and want to banish evil.
The Powers
Angels that assist in governing the natural order and the cosmos as warrior angels – they oppose the legions of Hell and banish evil.
Phillipa Carrington Online
Web: www.pipcarrington.com
Twitter: @pipcarrington
Instagram: @pipcarrington_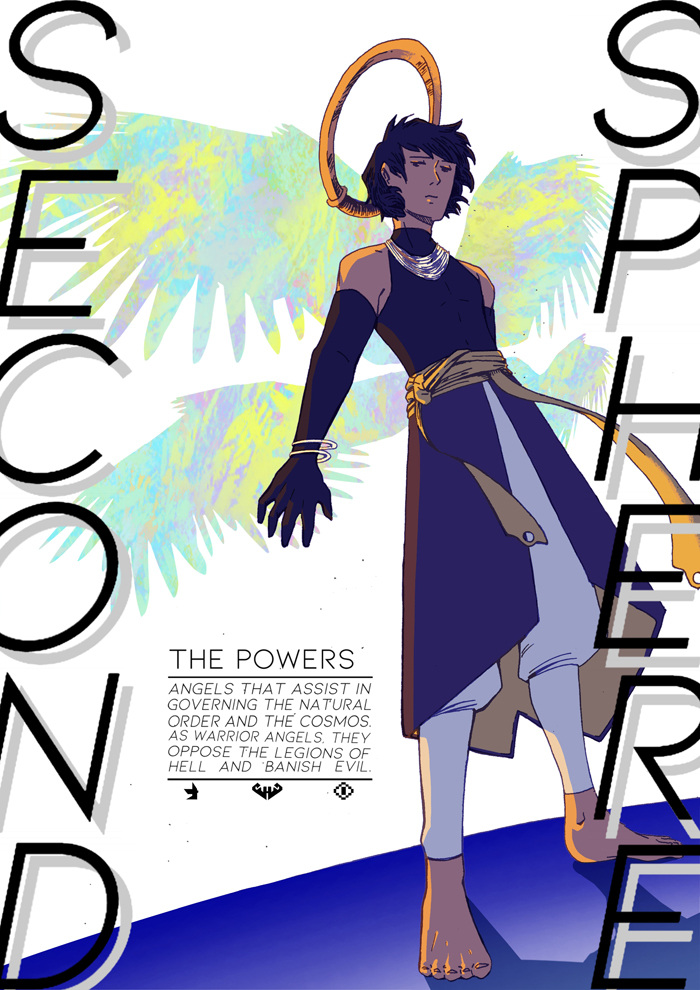 The Lakes International Comic Art Festival competition for 2019 is a tribute to Mike Mignola's Hellboy. Students are challenged to create their own new character who despite emerging from the hellish heat and fury of the underworld is, like Hellboy, a cool force for good.
Hell of a Comic Art Challenge is supported by the University of Cumbria