Known as the Water "Demon", Cathie Lou has the ability to shape-shift into a 40ft monster, read into people's minds and predict future outcomes.
In reality she is the unfortunate result of an incident where her cargo ship sunk causing a toxic metal spill from the supplies she was transporting.
Despite her abilities she struggles to recall what happened the day of the incident and barely remembers ever being human. However her dreams often feature aspects of something she can't quite place.
This fuels her curiosity with mankind and drive to help and protect them.
She is quiet, inquisitive and resourceful, making her supplies out of objects she finds along her travels.
She tries to rely on her resourcefulness and telepathic ability in an attempt to avoid shape-shifting and would only do so if things are getting desperate for her.
Vicki Hesse Online
Web: intergalactic-kraken.tumblr.com
Instagram @intergalactic_kraken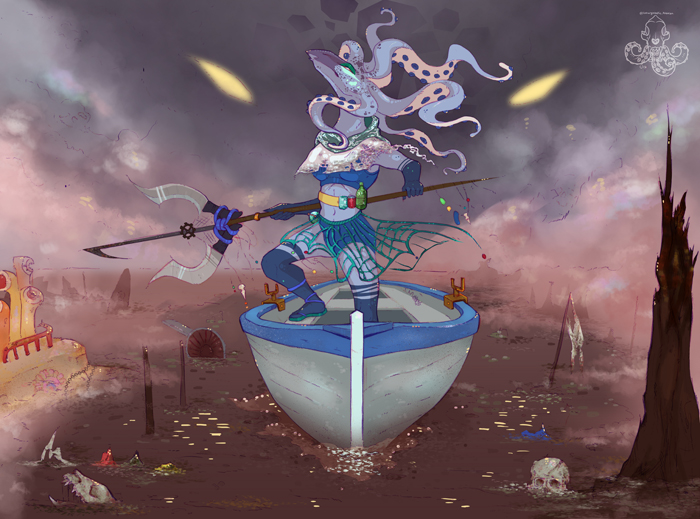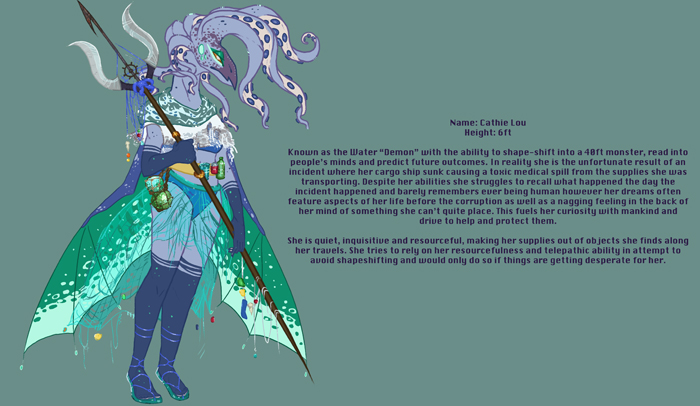 The Lakes International Comic Art Festival competition for 2019 is a tribute to Mike Mignola's Hellboy. Students are challenged to create their own new character who despite emerging from the hellish heat and fury of the underworld is, like Hellboy, a cool force for good.
Hell of a Comic Art Challenge is supported by the University of Cumbria