Hannah Berry, award-winning author and creator of the critically-acclaimed graphic novels Adamtine and Livestock, was UK Comics Laureate 2019 – 2021, picking up the baton from Charlie Adlard. With her time as Laureate ending recently, handing over to artist and independent comics advocate Stephen L. Holland, we caught up with her to talk about her time in the voluntary, unpaid role established by the Lakes International Comic Art Festival, supported by Lancaster University.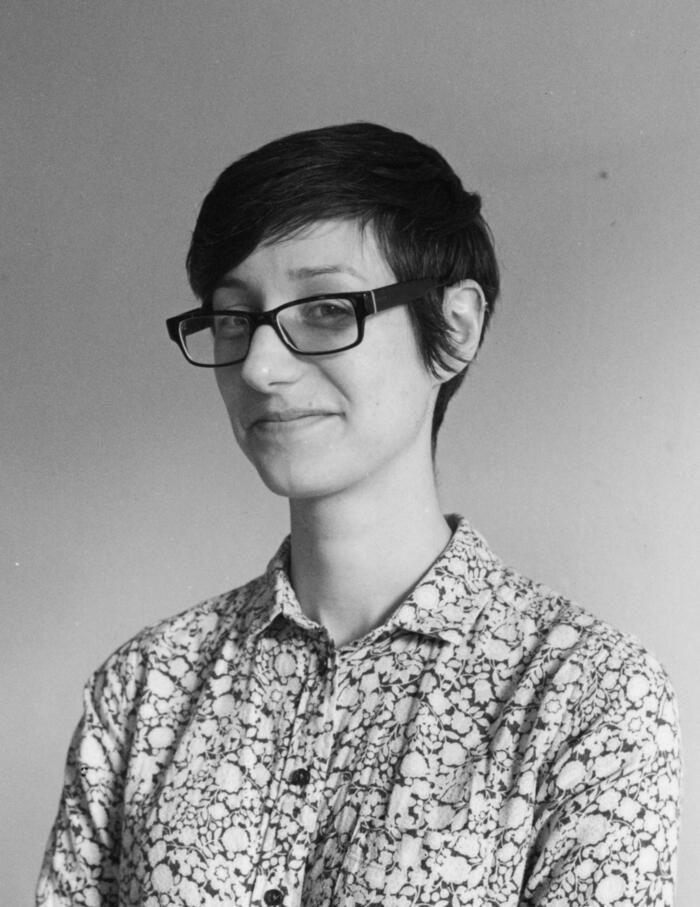 Now a Trustee of The Cartoon Museum and an integral part of the small team behind recently-formed Society of Authors Comic Creators Network, Hannah's major achievement as Comics Laureate was getting funding for, and carrying out a Comic Creators Survey – a ground-breaking survey of British comics creators, built by the Audience Agency and financed using public funding by the National Lottery through Arts Council England, the British Council and the University of Dundee.
The results provided invaluable data on the demographics of the sector, barriers and opportunities in the industry, the impact of COVID-19 and more. 
Hannah also initiated a comics project with the Howard League for Penal Reform, promoting comics as a tool to increase literacy in the youth offender/prison population, which is now coming to fruition with the involvement of fellow comics creator, Hannah Eaton. 
When you took on the role of Comics Laureate, what did you expect the role to be? Having taken on the role, did the role proved what you expected?
Hannah Berry: Ha! Well, I really thought I'd be spending these two years travelling loads and meeting people outside of the comics world, proselytising about the medium and finding exciting ways to help people with literacy and beyond using comics. Probably launching t-shirts saying COMICS FOREVER into screaming crowds with a t-shirt launcher.
Unfortunately, I underestimated how intense early-motherhood would still be with a not-yet-one-year-old (I was offered the post before my daughter was born) and I overestimated 2020's ability to just be a normal bloody year. Altogether, there was a lot less sleep, a lot more terror, and far fewer opportunities to work than I 'd hoped. And zero t-shirt launchers.
Like everyone else, I found ways around the situation as much as possible, and where it's been debilitating in some areas, it's actually been quite productive in others: because meeting remotely is the new norm, I've been able to approach a lot more organisations and get them to entertain my shenanigans than perhaps I would have in the before-times.
But while talking and scheming is easier, actually getting things off the ground is a different matter. Wherever things could be done remotely there was a lot of enthusiasm, but in this last year charities are focussing on core work and funding bodies are focussing on existing relationships, so all new projects and schemes are grounded for the time being. I was lucky that the survey could be done remotely, and that I got an Arts Council bid approved just before everything shut down. It was the Indiana Jones ' hat of funding applications.
The survey you conducted and gained funding for of UK comics creators provided invaluable data on the demographics of the sector, barriers and opportunities in the industry. What were the major things you took from it, and what are the issues now most important to address, moving forward?
Hannah: Yeah, bit bleak, wasn't it?? There's a lot to unpack in that 130-page report, but the biggest takeaway for me was the actual data to back up exactly how much comics is a labour of love for the vast majority of creators. The statistic I keep going back to is that just over one in ten creators see comics as their current career, but are only able to make them in their spare time.
There's not much money in it, very few opportunities that we're not making ourselves, virtually no support beyond peer-to-peer, and the entire 'industry' is only shored up by the enthusiasm of the community, but people really do love it. The word 'love' appeared in the literal responses 196 times, in fact. (Usually in the form "I love comics, but "),
It's a bit of a chicken and egg situation, where we need a bigger audience to build an industry upon, to support creators, to make more work, to build the audience…
The one thing that can break this cycle – I think, from talking to people in other areas of the arts that actually have such things – is getting outside funding to create the missing infrastructure that can support creators and help us take it from a hobby that sometimes pays to something approaching an actual profession.
Looking at the whole scene, there aren't enough employment opportunities, or awards, or fellowships or residencies or apprenticeships, or sources of financial/professional/legal advice, or outreach, or funding opportunities, or occupational training, or access to resources: all the things that would benefit us as professionals and help advance our careers. And a lot of people are doing phenomenal work in most of these areas, but far too much of it is on a voluntary basis: this is integral stuff, and people should be paid for it.

Will the survey shape your work for the Comic Creators Network, part of the Society of Authors, alongside other creators such as Woodrow Phoenix, Dan Berry, Alice Nuttall, Helen Kara, David Bishop and Nyla Ahmad?
Hannah: So after the survey results went out I ran a series of online discussion events about each of the main areas of concern (lack of money, lack of audience, lack of access and lack of professionalism) to get more input and feedback from the wider community. They were really successful and mostly extremely positive sessions, sharing information and resources and talking over various issues. Also, surprisingly little griping, considering?? I came away with lists of suggestions and concerns and no idea of where to begin addressing them.
Around the same time, I'd gotten in touch with Nicola Solomon, Chief Executive of the Society of Authors (totally unsolicited, because I'm nothing if not brazen) to tell her about the survey and the issues it raised, and asked if there was anything they/I/we could do about it.
It was like getting my coat trapped in the car door and having to sprint after it: the SoA have been enthusiastic and encouraging beyond my wildest dreams; eager to advocate for comics creators rights in whatever way they can. Creators can sign up to join the Comics Creators Network as members of the Society of Authors, which means being at a certain point in your career, but we've also formed a kind of alliance with the Association of Comics Creators – which you can also join as an emerging creator or a student – to flag up issues affecting the wider community or newer members who are more likely to be exploited.
Having the UK's writers union in our corner is enormous. We've only had one, mostly introductory, CCN steering committee meeting so far – the next is next week – but we're all extremely eager to Get Shit Done, and I've got my lists.
You also initiated a project with the Howard League for Penal Reform, promoting comics as a tool to increase literacy in the youth offender/prison population, which is now coming to fruition with the involvement of fellow comics creator, Hannah Eaton. Was there a particular driving factor behind that initiative?
Hannah: I've been especially interested in offenders' rights, since I worked for the Probation Service. The truth is that offenders are often treated abysmally and are intentionally ignored by society and lawmakers: punishment is very well accounted for, but rehabilitation is barely a grudging afterthought. Literacy is a massive problem amongst the prison population, and that obviously is a huge barrier to rejoining and being a part of society. I'd wanted to use comics in this area when I first took up the post, and met Dr Laura Janes, Legal Director of the Howard League for Penal Reform, who was keen on using comics to teach young offenders in particular about their rights.
We wanted to put together a pilot in a secure unit, and I suggested Hannah for it, because she has worked with troubled teenagers and young people all her life and makes brilliant comics. There are plenty things I'm willing to have a go at, but when it comes to vulnerable young people it's time to defer to an expert. I'm keen to see how they get on!
I also hope to be working with adult offenders with the National Literacy Trust with once things are, you know, normal again.
What advice would you give anyone taking on a role like Comics Laureate?
Hannah: Firstly: don't do it during a pandemic. If you can, try and avoid that. Secondly: run with it! This title opens doors to people who haven't given comics a second thought before. I don't like the idea of 'networking' – it sounds grossly self-serving, like something someone in marketing would do (no offence, marketers, but…) With the title, though, you can network on behalf of comics and feel much less grubby!
Plenty of organisations and charities are trying to solve problems of their own, and perhaps you can find a way for comics to help with those. And if that gives a little work to some of your peers? Even better!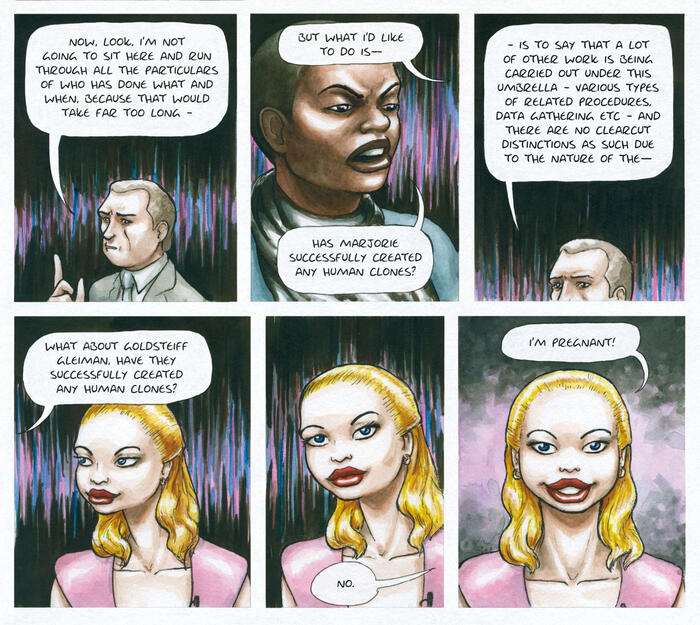 Are you now back at the drawing board, as well as other work? I know the experience of past graphic novel creation impacted on your creative thinking, but I'm sure there are many out there keen to see you in print…
Hannah: I've been mostly freelancing (writing and illustrating) over the last two years, and when the occasional bit of comics work does come in it's like coming home.
To be honest, my creative confidence took a nose-dive after I had my daughter, but I've really got that itch to get stuck into a longer comic of my own now. Probably not a full-length graphic novel, but a comic at least? I've got a few stories on the go, I'm just waiting to see which one is first to the finishing line…
The world has changed significantly as a result of COVID-19, changing the way many work, cooperate on projects and more. Do you think there will be lasting impacts we should be both concerned and, noting the grief it has wrought for so many, is there anything we can be learn from what has happened?
Hannah: Well, for starters, this last year has thrown up the sharp disparities between who gets supported and who doesn't, who gets to work and who doesn't, and who gets heard and who doesn't. It's really highlighted that lack of supporting infrastructure that I keep banging on about, and I don't think it sounds too cheesy to talk about 'the importance of working together' when failure means actual destitution.
I think the comics scene will pick itself up again and dust itself off – there's a strong will to help comics shops, publications and organisations recover from the last year – but I know from the survey that already in April/May of last year, most people were experiencing a real knock to their creative livelihoods, especially those who teach and those who rely on festivals and cons to sell work.
I don 't know about comics people specifically, but the SoA and the Association of Illustrators surveyed their own members, and only about half were eligible for government support. There are emergency grants etc, but a lot of these are for individuals and organisations who already have established relationships with funding bodies, which is only a tiny fraction of comickers.
It's bleak, and it's given us a clear picture that whatever we do try to put together in terms of infrastructure, it needs to be resilient enough to withstand something like this and protect as many creators, and their livelihoods, as possible.
We need to get some sturdy roots down ASAP to help the scene recover and to be able to weather things like this in the future.
Was there a comic or comic series you discovered as Comics Laureate you might not have otherwise, and if so, what is it?
Hannah; So it's not a comic or a comic series, but bear with me! I got asked to judge quite a few competitions over the course of the last two years, and one of the most eye-opening was the comics category of the Koestler Awards. Every year, people in the criminal justice system are invited to enter their art into the awards, and I have to say some of the entries I saw were phenomenal.
The winner produced an enormous comic/board game of the history of HMP Holloway, complete with sculpted board game pieces. It was amazing. So many of the entries were amazing! It's a shame the entrants were all anonymous, so I can't plug any of them, but I can plug the Koestler Awards as a whole: when they showcase the winners at the South Bank Centre, go see it!
As a further incentive, when I went, there was a tall, elegant and very familiar black man in the middle of the room and I thought – "huh " – and moved on, because there was no way that was who I thought it was. But I was there with fellow comic creator John Allison and I asked him after – "was that …? " And he said "Yes: it was RuPaul. " RuPaul was there. So if these works are good enough for RuPaul to enjoy, honey who are you to ignore them?
Finally (just for fun!) … Which comic or comic character most sums up the role of Comics Laureate?
Hannah: For me? Robotnik by Douglas Noble. (Winking emoji, followed by laughing emoji, followed by crying emoji).
Hannah, thank you very much for your time, thank you for all your work as Comics Laureate and the very best of luck in all your new projects – whatever they might be!
• Hannah Berry is online at hannahberry.co.uk | Twitter
• Check out the Comic Creators Survey Section on Hannah's web site here
• Find out more about the Society of Authors Comic Creators Network here
• Find out more about the ongoing work of the led by the Comics Laureate here on the Lakes International Comic Art Festival web site