The Lakes international Comic Art Festival has a new mascot, born from Lakes legend, designed by the ever wonderful Luke McGarry.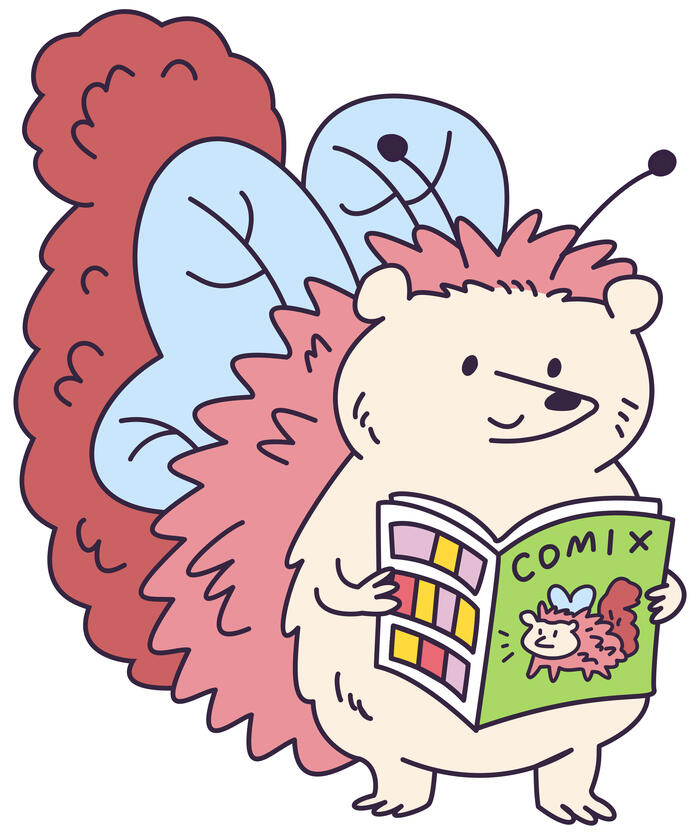 Complementing the Festival's move to Bowness-on-Windermere for this year's weekend-long event in October, the Lakes International Comic Art Festival is pleased to reveal their new mascot, Tizzie-Whizie, brought to life by comic creator Luke McGarry – one of the event's returning guests, along with his father, cartoonist Steve McGarry.
There is a most fascinating folklore tale around Windermere that, alongside being the Lake District's largest lake, it is also home to the tiny, elusive and utterly adorable Tizzie-Whizie! The Festival has adopted this adorable mythical marvel – or, perhaps, Tizzie-Whizie has adopted the Festival – and you can expect to see a lot more of this shy, water-loving, creature, that is said to be rather fond of ginger biscuits! You can find out more about Tizzie-Whizie here on our web site
Luke McGarry, perhaps best known for his Star Wars-inspired creation "Sad Chewie", has created a version of Tizzie-Whizie for LICAF, ahead of joining the huge line-up of comic creators at this year's Festival (14th – 16th October 2022), taking place in Bowness-on-Windermere for the first time.
Originally from Manchester, illustrator, cartoonist, animator and designer Luke McGarry is one of the most sought-after young cartoonists in Los Angeles, with work that spans from Kanye West Valentine cards to his "Sad Chewie" series. His comic, Palaver, is out now, and Petabytes recently launched his first NFT art collection.
Also joining Luke at the Festival is his father, Steve McGarry, whose recent credits, in addition to his long career in comics, includes work on movies such as Despicable Me 2, The Minions, and The Secret Life of Pets. He was also a story artist on the recent Minions Paradise game from EA Games.
Steve is one of the most prolific and widely-published cartoonists and illustrators that Britain has ever produced. In the UK alone, his daily strips include "Badlands," which ran for a dozen years in The Sun, and over his four-decade career his work regularly graced the pages of soccer magazines Match, Match of the Day and Shoot!. His comics work included Romeo in the 1970s and Look-In in the 1980s, through to Toxic!. 
His sports features have been syndicated worldwide since 1982 and his two current features – "Biographic" and "Kid Town" – are syndicated to over 200 newspapers.
"We're delighted to have a new mascot," says LICAF Festival Director Julie Tait, "and with our move to Bowness-on-Windermere, what better time to recruit a legend of the Lakes to the cause of creating and promoting comics?"
•  You can find out more about Tizzie-Whizie here on our web site
• The Lakes International Comic Art Festival will run from Friday 14th to Sunday 16th October 2022 – and is online at: www.comicartfestival.com | Lakes International Comic Art Festival Podcast: www.comicartpodcast.uk | Twitter: @comicartfestpod | Facebook: @ComicArtPodcast | Instagram: @ComicArtPodcast
• Head to the Festival web site now for further information about ticket options, or go straight to EventBrite and grab your tickets now
Announced guests for 2022 so far, in alphabetical order, are: Dimitris Anastasiou, Lucie Arnoux, Alison Bechdel, Matthew Dooley, Oliver East, Lina Ghabeih, Dave Gibbons, Jaime Hernandez, Bryan Hitch, Rian Hughes, Andrew Humphreys, Olivier Kugler, Luke McGarry, Steve McGarry, Mick McMahon, Bill Morrison, Bex Ollerton, Jacob Phillips, Sean Phillips, Mike Perkins, Tim Pilcher, Greg Rucka, Posy Simmonds, Fiona Stephenson, Jorg Tittel, Twin Cartoons, and Andi Watson | Guest Profiles Here
Exhibitors at the Lakeview Comics Marketplace are: A&A Co., Amber Hsu, Art-Bubble, B7 Comics, Beatrice Mossman, Benjamin Dickson, Bryan Talbot, Bungaroosh, Cartoonists' Club of Great Britain, Catfood Comics, Clarice Tudor, Clark Bint, Comics Youth CIC, Coming Home – Re-Live, Drew Marr of Gold Lion Comics, Fanfare Presents, Gustaffo Vargas, ILYA GRAPHIC, J Webster Sharp, James Chapman, Joe Latham, Kate Mia White, Kev F Sutherland, Knockabout Comics, Lyndon White, Markosia Enterprises, Martin Geraghty, Matt Smith! (Smith vs Smith), Myriad Editions, NCS Fest, Nick Brokenshire, Olivia Sullivan (ZEB.KO), Peter Morey Comics, Rachael Smith, Roger Langridge, Schnumn, SelfMadeHero, Sula Hancock, Teesside University, The 77 Publications, The Cartoon Museum, Tom Ward, Twins Cartoons, and Una | More information here
• Want to receive news about the Lakes International Comic Art Festival? Then sign up for their newsletter now
• Check out the LITTLE LICAF Facebook Page here and the dedicated LITTLE LICAF Instagram here