Princess Beelzebub of Hell and the Underworld is a title Bee has spent most of her life trying to lose.
Trapped in the war-torn nightmare of her kingdom, Bee is destined to take up the Unholy Crown of her mother and rule Hell as Queen. She wants nothing more than to leave it all behind. Her final hope is the world that captured her childhood; the world in the books and legends, a light in the encroaching shadow.
Earth.
Fleeing the Dark Palace with the (stolen) Sword of Hades at her side, Bee turns her back on Hell and the blood-soaked destiny she was born into, for the world she grew up dreaming about.
Facing the wicked and wonderful sides of modern Earth, with the demons of her mother's Royal Guard on her back, Bee vows to protect the world she came to love, from the evil she tried to run from, sword and hell-fire in hand.
Satan save anyone who tries to get in her way.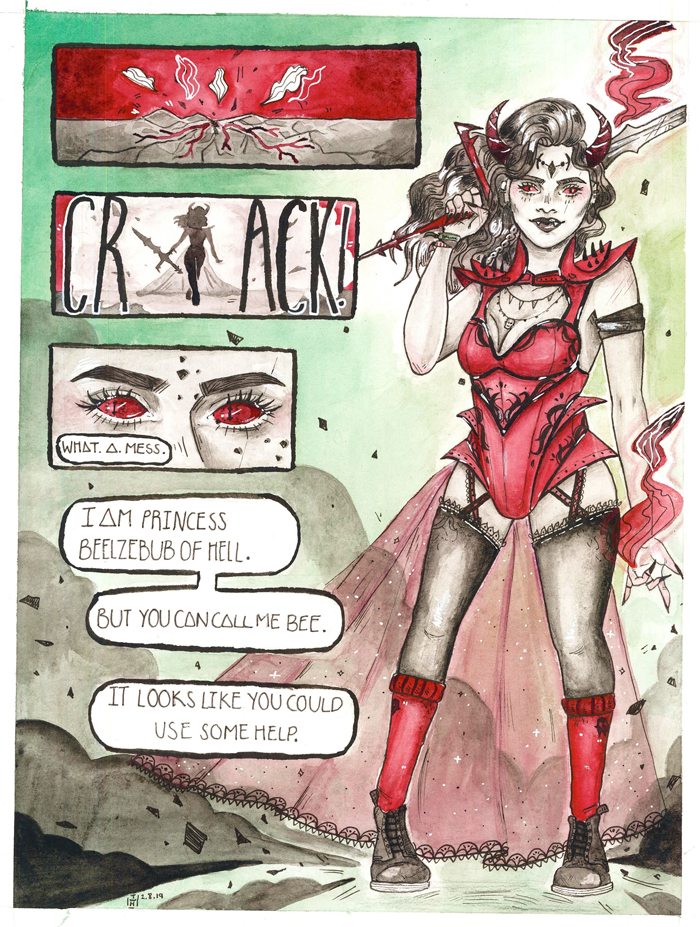 The Lakes International Comic Art Festival competition for 2019 is a tribute to Mike Mignola's Hellboy. Students are challenged to create their own new character who despite emerging from the hellish heat and fury of the underworld is, like Hellboy, a cool force for good.
The competition is open for entries until 30 August 2019 so if you know any budding artists or comic art enthusiasts, please visit our Hell of a Comic Art Challenge page!
Hell of a Comic Art Challenge is supported by the University of Cumbria